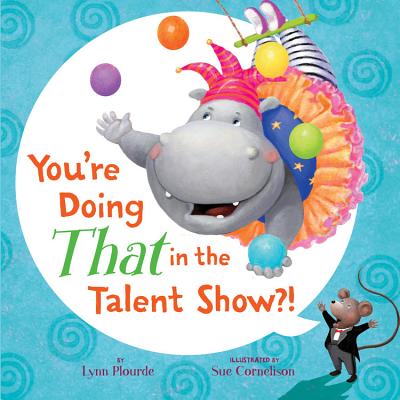 You're Doing THAT in the Talent Show?! (Hardcover)
Disney-Hyperion, 9781484714911, 32pp.
Publication Date: May 3, 2016
* Individual store prices may vary.
Description
When Penelope sees the poster announcing the upcoming school talent show, she can't wait to plan a spectacular act with her best friend, Tiny. Penelope has big ideas: Should they dance the ballet or the hula? Should they perform a scene from a play or be trapeze artists? "Oh, yes, yes!" But "Oh, no, no!" Tiny would rather just sing in the chorus. Finally, by supporting each other, the friends find the perfect way to be part of the show--and bring down the house.
About the Author
Lynn Plourde (www.lynnplourde.com) has had nearly thirty picture books published, including You're Wearing That to School?!, Wild Child, and School Picture Day. She considers herself a "teaching author," because she makes so many visits to schools to teach kids how to become better writers. She worked for 21 years as a speech-language therapist in public schools and is the author of ten educational books. As a child (and working adult) she always loved going to school, though she found it difficult to sleep the night before the first day, because she was anxious to start each year off right. This story is also an outgrowth of her obsession with the TLC make-over show What Not to Wear. She enjoys showshoeing, kayaking, and reading in Maine, where she would love to have a good reason to wear a feather boa on occasion.

Sue Cornelison (www.suecornelison) has illustrated several books for children, including You're Wearing That to School?!; The Twelve Days of Christmas in Iowa; Inch and Mile: The Journey to Success: and the Howard B. Wigglebottom Series. She studied art at Drake University in Iowa and the International School of Studio Art in Florence, Italy. She married jazz musician Ross Cornelison and together they rasied a family of six children in a small rural town while fixing up a 100-year-old Victorian house.

Praise For You're Doing THAT in the Talent Show?!…
PRAISE FOR YOU'RE WEARING THAT TO SCHOOL?!*
"A hippo with her own sense of style shows her 1-year-older, uptight, mouse best friend that it's important to be true to yourself. . .Plourde's dialogue includes lots of give-and-take between Penelope and Tiny, encouraging children to join in, and Cornelison's illustrations positively revel in Penelope's outr glee.
Penelope joins the ranks of some other popular nonconformists, including Ian Falconer's Olivia, David Shannon's Camilla Cream and Victoria Jamieson's Bea."—
Kirkus (starred review)PRAISE FOR YOU'RE WEARING THAT TO SCHOOL?!
"Penelope's avant-garde choices will certainly appeal to kids who think feather boas go with everything, while Tiny's concern is handled with tenderness and compassion-he really believes he's looking out for his friend. . .Clear writing, lively dialogue, and a solid story structure enhance this title's readaloud value as well. Cornelison's slightly soft-focus illustrations are strongly composed. . .Share this before or during the first day of school for an entertaining discussion prompt about individuality."
—
Bulletin of the Center for Children's BooksPRAISE FOR YOU'RE DOING THAT IN THE TALENT SHOW?!
"Cornelison's brightly colored cartoon illustrations capture the different personalities of the two friends right from the opening spread. . . Youngsters will enjoy chiming in on the repeated phrases and giggle at Penelope's over-the-top costumes. The addendum "Tips for a Spectacular Performance" is a helpful bonus. VERDICT A showstopper."—
School Library JournalPRAISE FOR BELLA'S FALL COAT
"The mutual adoration between Bella and Grams is abundantly evident in the tender exchanges Plourde puts together, as well as in Gal's gauzy, multilayered images, which capture both Bella's near-inexhaustible energy and that of a woodland landscape in flux."—
Publishers WeeklyPRAISE FOR YOU'RE DOING THAT IN THE TALENT SHOW?!
"With lively text and charming, vibrant cartoon illustrations, including ever-enthusiastic, colorfully clad Penelope and the more practical, low-key Tiny, this offers an entertaining, amusing read while insightfully portraying friendship's many facets, from appreciating differences to problem-solving disagreements to showing mutual support."—
Booklist