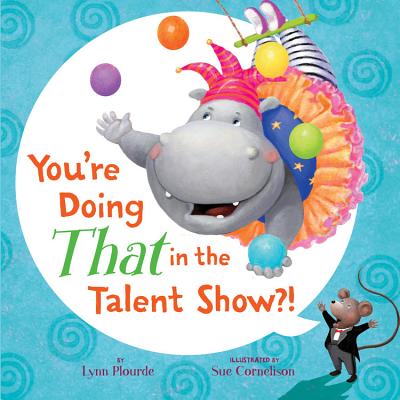 You're Doing That in the Talent Show?! (Hardcover)
Disney-Hyperion, 9781484714911, 32pp.
Publication Date: May 3, 2016
Description
When Penelope sees the poster announcing the upcoming school talent show, she can't wait to plan a spectacular act with her best friend, Tiny. Penelope has big ideas: Should they dance the ballet or the hula? Should they perform a scene from a play or be trapeze artists? ""Oh, yes, yes "" But ""Oh, no, no "" Tiny would rather just sing in the chorus. Finally, by supporting each other, the friends find the perfect way to be part of the show--and bring down the house.
About the Author
Lynn Plourde (www.lynnplourde.com) has had nearly thirty picture books published, including You're Wearing That to School?!, Wild Child, and School Picture Day. She considers herself a "teaching author," because she makes so many visits to schools to teach kids how to become better writers. She worked for 21 years as a speech-language therapist in public schools and is the author of ten educational books. As a child (and working adult) she always loved going to school, though she found it difficult to sleep the night before the first day, because she was anxious to start each year off right. This story is also an outgrowth of her obsession with the TLC make-over show What Not to Wear. She enjoys showshoeing, kayaking, and reading in Maine, where she would love to have a good reason to wear a feather boa on occasion. Sue Cornelison (www.suecornelison) has illustrated several books for children, including You're Wearing That to School?!; The Twelve Days of Christmas in Iowa; Inch and Mile: The Journey to Success and the Howard B. Wigglebottom Series. She studied art at Drake University in Iowa and the International School of Studio Art in Florence, Italy. She married jazz musician Ross Cornelison and together they rasied a family of six children in a small rural town while fixing up a 100-year-old Victorian house.
Advertisement