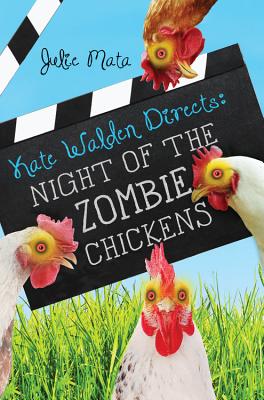 Night of the Zombie Chickens (Kate Walden Directs #1)
Paperback

* Individual store prices may vary.
Praise For Night of the Zombie Chickens (Kate Walden Directs #1)…
"Throughout the story, Mata conveys Kate's exuberant enthusiasm for the filmmaking process, including Kate's relish in the special effects tactics used in zombie films and other movies. The surprise twist that provides a timely solution to Kate's dilemmas is suitably theatrical for the movie enthusiast. Preteen and middle school readers will respond to the dogged tenacity with which Kate pursues her moviemaking dreams."
—
?(Fiction. 10-14)-Kirkus
"Zombie Chickens is an original take on friendship between girls and middle-school angst. Fans of Wendy Mass, Sharon Draper, and Rebecca Stead will appreciate this clever and quirky piece of realistic fiction."-Lauren M. Sinacore, George M. Davis Elementary School, New Rochelle , NY
—
?-School Library Journal
"Each of these dilemmas invites readers to consider how they would deal with similar issues in their own lives. Young teens, especially girls, will find Kate an appealing character facing problems much like their own-except, perhaps, for the zombie filmmaking. Teen guys might appreciate it as well because of the hijinks."-Donna L. Phillips—
?-VOYA
Like many directors, seventh grader Kate finds that her cast doesn't always cooperate, whether it is her mother's chickens or popular girl Lydia, who asks to be a zombie but can't be serious long enough to film. Thanks to Lydia's chicken-poop jokes at school, Kate finds herself with the new unfortunate nickname "Crapkate" and sitting at the unpopular table at lunch. What's worse, her longtime best friend Alyssa seems to be falling into Lydia's "gravitational pull." After an angry fight, Kate writes a script that will make Alyssa realize what it's like to be on the outside. Mata depicts middle-school angst with humor and pathos, as Kate frequently blurts out things she doesn't mean to say and gets herself into situations that are emotionally complicated, including a side story in which she overhears her father speaking cozily on the phone and decides to spy on him. The accessible writing style complete with middle-school crudeness ("You suck!"), the realistic conflicts with friends and family, and Kate's snappy personality should put this high up in the pecking order. susan dove lempke
—
?Horn Book
Little, Brown Books for Young Readers, 9781484716649, 304pp.
Publication Date: April 21, 2015
About the Author
Debut author Julie Mata co-owns a film/video production business, where she works as the producer and writer. Previously she pounded out copy as a television reporter, producer, and freelance writer. She's also owned chickens, although none were zombies, as far as she knows!
or
Not Currently Available for Direct Purchase