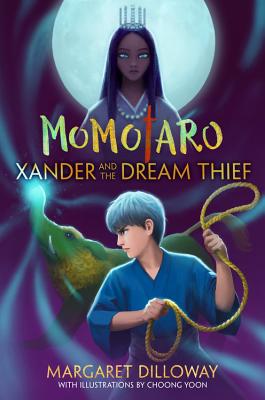 Xander and the Dream Thief (Momotaro #2)
Hardcover

* Individual store prices may vary.
Other Editions of This Title:
MP3 CD (5/2/2017)
Compact Disc (5/2/2017)
Paperback (4/3/2018)
Description
Percy Jackson meets Hayao Miyazaki in this contemporary Japanese folktale, a sequel to Xander and the Island of Lost Monsters.

Xander Miyamoto should be feeling great. It's the beginning of summer vacation, his mother has returned from a long absence, and he has learned that he is a warrior with special powers. Xander never would have guessed that the old Japanese folktale about Momotaro, the hero who sprang from a peach pit, was real, much less part of his own heritage.

But instead of reveling in his recent victory against the oni, monsters bent on creating chaos, Xander is feeling resentful. What took his mother so long to come back? Why does his father insist on ruining the summer with study and training? And why is Xander plagued by nightmares every night? Maybe this whole Momotaro thing is overrated. 

Xander's grandmother gives him a special baku charm to use to chase his nightmares away. He just has to be careful not to rely on it too much. If he does, the baku will not only take his dreams, but those of everyone in the house, forever. Without dreams, there is no hope, no motivation, no imagination, no Momotaro. And then it would be far too easy for Ozuno, king of the oni, to wreak havoc. . . .

On his second quest, Xander explores new surreal landscapes, encounters more strange and dangerous creatures, and faces even higher stakes as he learns whether or not he has what it takes to be Momotaro.
Little, Brown Books for Young Readers, 9781484724880, 336pp.
Publication Date: April 18, 2017
About the Author
Margaret Dilloway has been a writer ever since she learned how to write. In high school she was a California Arts Scholar in Creative Writing and she won a National Council of Teacher English writing award. She practiced writing in a variety of forms, such as being a theater critic and contributing editor for two weekly newspapers, doing technical writing, and playwriting, before publishing three critically acclaimed books for adults, How to Be an American Housewife, The Care and Handling of Roses with Thorns, and Sisters of Heart and Snow. Her middle grade books include Summer of a Thousand Pies and Five Things About Ava Andrews. Her research for her Momotaro books included a trip to Japan and a samurai sword-fighting class. Margaret lives in southern California with her husband, three children, and a Goldendoodle named Gatsby. For more information, visit www.margaretdilloway.com. You can also follow her on Twitter @mdilloway.

Choong Yoon grew up in Seoul, South Korea. As a kid, he loved drawing animated characters and copying comic book panels. His passion for art grew until eventually he studied Fine Arts at Seoul National University. His fascination with narrative storytelling led him to transfer to the School of Visual Arts in New York, where he learned illustration. After graduating, Choong began working as a freelance illustrator of books and comic books and went back to live in Seoul. More of his work can be seen at www.choongyoon.com.