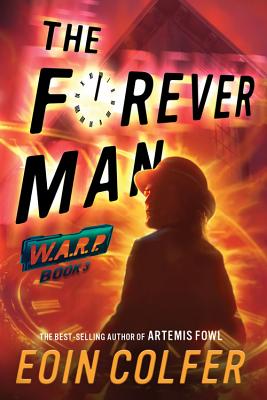 WARP Book 3 The Forever Man (WARP Book 3)
Hardcover

* Individual store prices may vary.
Other Editions of This Title:
Digital Audiobook (9/14/2015)
CD-Audio (9/15/2015)
Paperback (11/1/2016)
Praise For WARP Book 3 The Forever Man (WARP Book 3)…
PRAISE FOR THE LAST GUARDIAN

*"In his eighth, greatest and (billed as) final exploit, Artemis Fowl finally puts an end to archnemesis Opal Koboi while also saving humanity from extinction, but at a steep price. A fitting end to a brilliantly conceived and developed series."—-- Kirkus (starred review)

PRAISE FOR THE LAST GUARDIAN

"Fans of Artemis Fowl will appreciate this eighth and final installment in the series. All the tongue in cheek humor and sarcastic wit and tone are present. Fairies aplenty abound, as does the mischief and mayhem that they bring. These books are written to be full of fun and adventure, and the Last Guardian succeeds. All the main characters play a part, which will satisfy fans."—-- VOYA

PRAISE FOR THE RELUCTANT ASSASSIN

*"Readers mourning the end of the Artemis Fowl series can take heart: this first book in the time-bending W.A.R.P. series is an all-out blast."—-- Publishers Weekly (starred review)

PRAISE FOR THE RELUCTANT ASSASSIN

"This science-fiction thriller provides readers with a breathless ride through modern and Victorian Londons as these two resourceful teens struggle to stay alive and one step ahead their pursuer...the intricate plot, strong writing, and intrepid characters who must survive by their wits will make it hard to put down."—-- School Library Journal

PRAISE FOR THE RELUCTANT ASSASSIN

"One of the most engaging aspects of Colfer's books is the brilliantly witty and imaginative plots that he devises. This book is no exception. The characters are vividly drawn and entertaining...Colfer also incorporates some steampunk elements into the setting, which amps up the appeal. Fans of his other books will love this new addition and eagerly await the next installment in the series."—-- VOYA

PRAISE FOR THE RELUCTANT ASSASSIN

"Artemis Fowl fans will cheer to see Colfer return at the top of his game."—-- Bulletin for the Center for Children's Books

PRAISE FOR THE HANGMAN'S REVOLUTION

"Undoing the catastrophically altered present wrought in The Reluctant Assassin (2013) requires further immersion (not just figuratively) in Victorian London's noxious stews for teenage, time-traveling special agent Chevron Savano. Colfer outfits Chevie with a Dickensian supporting cast. It's led by Riley, a street child trained up as an assassin, and larger-than-life crime lord Otto Malarkey, among others. . .Time travel makes the future a fluid reality, but it looks like it may be saved at the end, though some strings remain to be tied up-or further tangled-in upcoming sequels. . .A grand yarn told with a wink and kitted out with high stakes and broadly drawn characters for maximum fun."—-- Kirkus

PRAISE FOR THE HANGMAN'S REVOLUTION

"Teen FBI agent Chevron Savano . . . must work with her old pal in Victorian London, Riley, the budding illusionist, along with former foe, Otto Malarkey, if she is going to save the day and prevent everybody's future from becoming extremely miserable under the rule of Colonel Box. Colfer does a great job of making not just main characters Chevie and Riley come alive, but also showing things vividly from the perspective of secondary characters such as Malarkey and the Thundercats. . .Colfer's trademark wit and adventurous plotting are in abundance as well. This is a very fun read. . ."—-- VOYA
Disney-Hyperion, 9781484726037, 352pp.
Publication Date: September 15, 2015
About the Author
Eoin Colfer (www.eoincolfer.com) is the New York Times best-selling author of the Artemis Fowl series, as well as WARP Book 1: The Reluctant Assassin, WARP Book 2: The Hangman's Revolution, Airman, Half Moon Investigations, The Supernaturalist, and The Wish List. In 2014, he was named Ireland's laureate for children's literature. He lives in Ireland with his wife and two children.
or
Not Currently Available for Direct Purchase