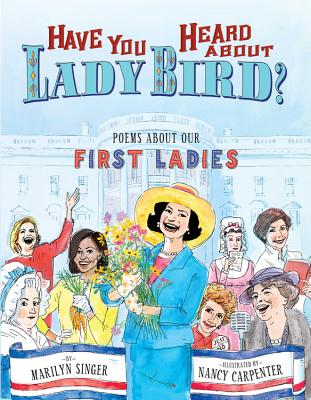 Have You Heard About Lady Bird? (Hardcover)
Poems About Our First Ladies
Disney-Hyperion, 9781484726600, 56pp.
Publication Date: October 16, 2018
* Individual store prices may vary.
Description
The role of First Lady has been defined differently by each woman who's held it, but all of them left an impact on our nation as partner of the commander in chief.
Incisive poetry by Marilyn Singer and energetic art by Nancy Carpenter provide a fascinating glimpse into the lives of women-from Martha Washington to Eleanor Roosevelt to Lady Bird Johnson-who variously embraced the position and shied away from it, craved the spotlight and fiercely guarded their privacy, took controversial stands and championed for the status quo. Detailed back matter includes short biographies, quotations, and more.
About the Author
Marilyn Singer is the author of more than one hundred books for children and young adults, including Rutherford B., Who Was He?: Poems About Our Presidents; Feel the Beat!: Dance Poems that Zing from Salsa to Swing; Mirror Mirror; and Echo Echo. She lives with her husband and a variety of creatures in Brooklyn, New York, and Washington, Connecticut. Visit her at www.marilynsinger.net.
Nancy Carpenter is the illustrator of more than sixty books for children, including Queen Victoria's Bathing Machine by Gloria Whelan, an ALA Notable Children's Book and CBC/NCSS Notable Social Studies Trade Book; Apples to Oregon by Deborah Hopkinson, an ALA Notable Children's Book and SCBWI Golden Kite Award winner; and Lucky Ducklings by Eva Moore, a Parents' Choice Gold Medal Award winner. Her unique multimedia approach to illustration has garnered numerous honors, including two Christopher Awards and the Jane Addams Children's Book Award. She lives in Brooklyn, New York, with her husband, daughter, son, and dog, Banjo. You can visit Nancy online at www.nancycarpenter.website.
Praise For Have You Heard About Lady Bird?: Poems About Our First Ladies…
PRAISE FOR RUTHERFORD B., WHO WAS HE?: POEMS ABOUT OUR PRESIDENTS—2014 Lee Bennett Hopkins Poetry Award Honor

PRAISE FOR RUTHERFORD B., WHO WAS HE?: POEMS ABOUT OUR PRESIDENTS

"A visually explosive mixture of fact and verse, this may not be the first presidential poetry collection for kids out there, but by gum it's the best."—Elizabeth Bird, A Fuse #8 Production

PRAISE FOR RUTHERFORD B., WHO WAS HE?: POEMS ABOUT OUR PRESIDENTS

"Singer shows mastery of poetic forms."—Kirkus Reviews

PRAISE FOR RUTHERFORD B., WHO WAS HE?: POEMS ABOUT OUR PRESIDENTS

"[Singer] infuses the familiar with new meaning."—Publishers Weekly

PRAISE FOR RUTHERFORD B., WHO WAS HE?: POEMS ABOUT OUR PRESIDENTS

"[I]mpressive. . . . [A] wonderful teaching tool."—School Library Journal, starred review

PRAISE FOR RUTHERFORD B., WHO WAS HE?: POEMS ABOUT OUR PRESIDENTS—2015 Young Hoosier Book Award Masterlist

PRAISE FOR RUTHERFORD B., WHO WAS HE?: POEMS ABOUT OUR PRESIDENTS—2015 Texas Bluebonnet Award Nominee