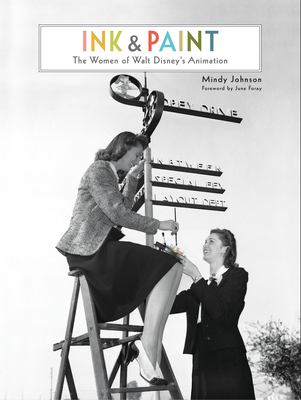 Ink & Paint (Hardcover)
The Women of Walt Disney's Animation (Disney Editions Deluxe)
Disney Editions, 9781484727812, 384pp.
Publication Date: September 5, 2017
* Individual store prices may vary.
Description
From the earliest origins of animated imagery, the colorful link between paper and screen was created by legions of female artists working on the slick surface of celluloid sheets. With calligraphic precision and Rembrandtesque mastery, these women painstakingly brought pencil drawings to vibrant, dimensional life. Yet perhaps as a reflection of the transparent canvas they created on, the contributions and history of these animation artists have remained virtually invisible and largely undocumented, until now. Walt Disney's pioneering efforts in animation transformed novelty cartoons into visual masterpieces, establishing many "firsts" for women within the entertainment industry along the way. Focusing on talent, Disney sought female story specialists and concept artists to expand the scope and sensibility of his storytelling. Upon establishing the first animation-training program for women, ink pens were traded for pencils as ladies made their way into the male-laden halls of animation. World War II further opened roles traditionally held by men, and women quickly progressed into virtually every discipline within animation production. Disney's later development of the Xerox process and eventual digital evolution once again placed women at the forefront of technological advancements applied to animated storytelling. In her latest landmark book, Ink & Paint: The Women of Walt Disney's Animation, author Mindy Johnson pulls back the celluloid curtain on the nearly vanished world of ink pens, paintbrushes, pigments, and tea. From the earliest black-and-white Alice Comedies to the advent of CAPS and digital animation, meet the pioneering women who brought handrendered animated stories to vibrant, multicolored life at Walt Disney Studios and beyond. Extensively researched with the full support of the entire Walt Disney Studios archival resources, plus a multitude of private collections, firsthand accounts, newly discovered materials, and production documentation, as well as never-before-seen photography and artwork, this essential volume redefines the collective history of animation.

About the Author
Award-winning author and historian Mindy Johnson once again takes readers on an epic journey into the unexplored realms of our shared past. Her critically acclaimed debut title, Tinker Bell: An Evolution, which chronicled the development of everyone's favorite fairy, was honored with consecutive Family Choice Awards. A contributing writer for The Walt Disney Film Archives: The Animated Movies 1921â€"1968 (Taschen Publishing) and the celebrated book Marc Davis: Walt Disney's Renaissance Man (Disney Editions), Mindy is a frequent speaker and writer on early cinema, animation, women's history, and creativity. She's also an award-winning playwright, songwriter, musician, and contributing artist on several internationally acclaimed recordings. Mindy continues to teach, write, and consult for various entertainment entities . . . between tea breaks.
Praise For Ink & Paint: The Women of Walt Disney's Animation (Disney Editions Deluxe)…
"No serious scholar of Disney animation should be without this authoritative volume."—Brian Sibley, writer, broadcaster, and Disney scholar

PRAISE FOR PENCILS, PENS & BRUSHES: A GREAT GIRLS' GUIDE TO DISNEY ANIMATION

"In this inspiring picture book, Johnson celebrates the many talented women who worked for Walt Disney Studios: writers, dancers, singers, chemists, pilots, and-of course-artists. Some of these women achieved
greatness while working at Disney, such as Dorothy Ann Blank, one of the credited writers for Snow White and the Seven Dwarfs. Others found fame later in life: Mildred Rossi, who did the special effects for Chernabog
in Fantasia, also designed many famous Hollywood monsters. Some studied under Nelbert Murphy Chouinard, who agreed to teach Disney animators how to draw realistically when no man would. Bov channels
Disney legend Mary Blair through her bright, playful illustrations. These career-oriented women are pictured hard at work-and happy! Their inkwells, sketches, and diplomas fly off their desks in a whimsical frenzy. Flowers and paintbrushes swirl around their smiling faces. . ."—American Library Association Booklist

PRAISE FOR TINKER BELL: AN EVOLUTION

One of "47 Incredibly Unique Books To Buy Everyone On Your List . . . #15. For Disney obsessives."—BuzzFeed

"The size and weight of this volume is matched only by its scope. Disney scholar Johnson, whose previous book detailed the history of Tinker Bell, has outdone herself this time around."—Leonard Maltin, film critic and historian

"Setting the record straight, Johnson has produced an encyclopedic, well-researched and fascinating account of women in the film industry. It encompasses everything from the invention of celluloid, to the silent film genius Georges M li s' staff hand coloring of film footage, to Disney studio's Ink & Paint department."—New York Journal of Books

"Mindy Johnson's new book, Ink & Paint, is a game changer. It's a major book that tells the history of animation from the point of view of the women who were part of its birth, its decades of production, and its long term success. It's published by Disney Editions-and the Disney studio story is a major part of its focus. But Johnson learned, while doing her research, that women played an important part in animation before (think Margaret Winkler), during (think Fleischer's Lillian Friedman or Lantz's LaVerne Harding) and in present day (think Brenda Chapman, among many others) well beyond Disney."—Cartoon Research

"Here's A Book About The Hundreds Of Women Artists Who Helped Create The Disney Classics."—Cartoon Brew

One of "20 Books Every True Disney Fan Should Have in Their Collection"—POPSUGAR

"Mindy Johnson tells, for the first time, a complete and detailed history of the women who made a significant contribution to the success of The Walt Disney Company and in the field of animation. At 384 pages, it's an extensively detailed book filled with photographs, diagrams, drawings and artwork-many of which have never been seen before now."—Huffington Post

"Award-winning historian Johnson chronicles the invaluable role women have played in animation history, especially in the creation and duration of Walt Disney Studios. Chapters-arranged chronologically by decade from the 1920s to the 1980s-begin with time lines that contextualize the evolution of Disney within world events. Johnson details the creative process behind every Disney feature-how it deviated from its predecessors; how animation techniques advanced; and how it relied on the amazing, often-overlooked work done by women."—American Library Association Booklist, Starred Review