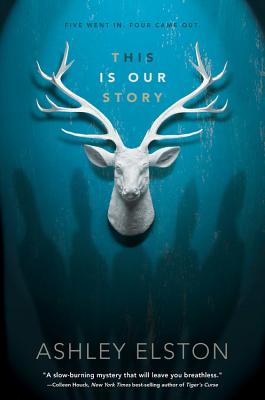 This is Our Story (Hardcover)
Disney-Hyperion, 9781484730898, 320pp.
Publication Date: November 15, 2016
Other Editions of This Title:
Paperback (10/17/2017)
MP3 CD (11/21/2017)
Compact Disc (11/21/2017)
Pre-Recorded Audio Player (2/21/2018)
* Individual store prices may vary.
Description
No one knows what happened that morning at River Point. Five boys went hunting. Four came back. The boys won't say who fired the shot that killed their friend, Grant; the evidence shows it could have been any one of them.
Kate Marino's senior year internship at the District Attorney's Office isn't exactly glamorous-more like an excuse to leave school early that looks good on college applications. Then the DA hands her boss, Mr. Stone, the biggest case her small town of Belle Terre has ever seen. The River Point Boys are all anyone can talk about. Despite their damning toxicology reports the morning of the accident, the DA wants the boys' case swept under the rug. He owes his political office to their powerful families.
Kate won't let that happen. Digging up secrets without revealing her own is a dangerous line to walk; Kate has personal reasons for seeking justice for Grant. As she investigates with Stone-the aging prosecutor relying on Kate to see and hear what he cannot-she realizes that nothing about the case-or the boys-is what it seems. Grant wasn't who she thought he was, and neither is Stone's prime suspect. As Kate gets dangerously close to the truth, it becomes clear that the early morning accident might not have been an accident at all-and if Kate doesn't uncover the true killer, more than one life could be on the line?including her own.

About the Author
Ashley Elston is the daughter of an attorney and grew up surrounded by talk of court cases, crazy clients, and the law in general ? all of which triggered the ideas in her legal thrillers. Ashley is also the author of The Rules for Disappearing, a 2014 finalist for the International Thriller Writers: Best Young Adult Novel, and its sequel, The Rules for Breaking. She has a liberal arts degree from Louisiana State University in Shreveport and lives in Shreveport, Louisiana, with her husband and three sons. For more information about Ashley and her books, please visit www.ashleyelston.com.
Praise For This is Our Story…
"Absorbing, haunting, and memorable... a slow-burning mystery/love story that ratchets up the tension with each chapter. By the time you reach the end you will be breathless!"—
Colleen Houck, New York Times best-selling author of the Tiger's Curse series
"Chilling and suspenseful, with just the right number of twists."—
KirkusPRAISE FOR RULES FOR DISAPPEARING, THE
"
[H]ard to put down."—
The New York Journal of BooksPRAISE FOR RULES FOR DISAPPEARING, THE
"The realistic setting, believable romance and spunky protagonist will make this one worth the trip for mystery and romance fans."—
KirkusAccolades
2018-2019 Florida Teens Read Award, finalist
"Elston spins out a solid mystery... She sustains a high level of tension. For teens who enjoy watching the heedless-but-good girl take on a crew of privileged bad boys to exonerate her guy, this is their story."—
BCCB
"Intrigue and suspense, drugs and partying, social media, budding romance, mounting clues, and characters who embody good and bad--some evil--make this incredibly crafted novel impossible to set aside. It is a stellar summer reading or book discussion group choice... This novel will circulate among all readers."—
VOYA
"The characters are believable and well developed in this stimulating and intriguing plot. This mesmerizing romantic mystery is bursting with plot twists and turns that will leave the reader highly satisfied and wishing they had not yet finished the book."—
School Library Council, starred review
"The plot build cleverly, interspersed with text messages, mistaken identities, whiffs of political corruption, and mysterious narrations from someone who knows what happened... impossible to put down."—
Booklist
"The narrative feels ripped from the headlines, a contemporary cautionary tale with enough wrinkles to make all four boys seem like likely suspects... Kate's efforts to solve the case highlight the duality of the human soul, the ways technology can twist the truth, and the difficulty of knowing who to trust."—
Publishers Weekly