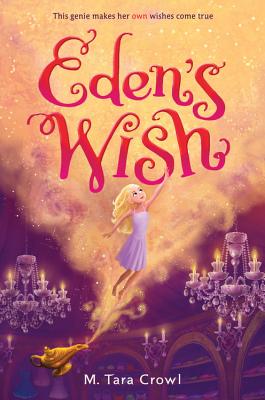 Eden's Wish (Eden of the Lamp) (Paperback)
Disney-Hyperion, 9781484749180, 288pp.
Publication Date: August 2, 2016
* Individual store prices may vary.
Description

All twelve years of Eden's life have been spent inside an antique oil lamp. She lives like a princess in her tiny, luxurious home, but to Eden, the lamp is a prison. She hates being a genie. What she wants, more than anything, is freedom.

When Eden finds a gateway to Earth within the lamp, she takes her chance and enters the world she loves. And this time, she won't be sent back after three wishes.

Posing as the new kid at a California middle school, Eden revels in all of Earth's pleasures-but quickly learns this world isn't as perfect as she thought. Soon, she finds herself in the middle of a centuries-old conflict between powerful immortals. A ruthless organization run by a former genie will do anything to acquire the lamp and its power-even hurt Tyler and Sasha, the new mortal friends who have given Eden a home. To save her friends and protect the lamp's magic, Eden must decide once and for all where she belongs.



About the Author
M. Tara Crowl grew up in Murfreesboro, Tennessee. She studied Cinematic Arts at the University of Southern California, then received an MA in Creative Writing at Macquarie University in Sydney, Australia. She lives in New York City.
Praise For Eden's Wish (Eden of the Lamp)…
"Crowl's imaginative storyline rings with both perception and humor."—
Kirkus Reviews
"An imaginative romp with a smart, snarky protagonist and a humorous interpretation of the world as we know it...[Eden] is also just plain entertaining, with a sassy attitude and a clever wit that saves her on more than one occasion."
—
BCCB
"Middle grade readers will enjoy the children's autonomy and Eden's humorous difficulties in grasping how school works...
Hand this to readers who like their magical fantasy combined with middle school drama."
—
School Library Journal