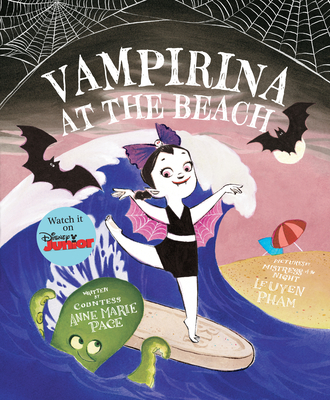 Vampirina at the Beach (Hardcover)
Disney-Hyperion, 9781484773420, 40pp.
Publication Date: April 4, 2017
* Individual store prices may vary.
Description
When the summer moon is full, a beach trip is an epic way to spend the night.
With her signature poise, Vampirina and her clan gear up for a festive time at the beach. Keeping her ballet lessons in mind, Vampirina demi-pliés on a surfboard, leaps for a volleyball, and finishes each competition with style, even if she doesn't always come out on top.
Readers will shout "Brava!" for this third gracefully ghoulish picturebook by duo Anne Marie Pace and LeUyen Pham.
Praise for Vampirina Ballerina

*"Pham (All the Things I Love About You) and Pace are entirely in sync in this sweetly goth 'how to' for vampirettes under the spell of something more powerful than anything the dark forces can muster: ballet."
-Publishers Weekly, starred review

"Readers will applaud this elegantly designed, well-told story. Brava, indeed."
-Kirkus Reviews

"Pace's funny, matter-of-fact advice ("always get a good day's sleep") works in harmony with Pham's expressive watercolor pen-and-ink artwork, which depicts the adorable minivampire leaping and pliéing enthusiastically across the pages."
-Booklist

"The sweet and spooky watercolor and pen-and-ink pictures are filled with motion and portray Vampirina's 'road to ballerinadom' with humor and insight."
-School Library Journal

"[T]he message that passion, dedication, and patience have beautiful results is inspirational for any reader."
-Horn Book


Praise for Vampirina Ballerina Hosts a Sleepover

"Pace's droll advice contrasts delightfully with Pham's spooky-comical watercolors, . . . and it should prove heartening for readers who feel that their families are a bit different."
-Publishers Weekly

"[F]illed with humorous details."
-School Library Journal

"Any gathering at Vampirina's is sure to be a scream."
-Horn Book
About the Author
Anne Marie Pace (www.annemariepace.com) is the author of
Vampirina Ballerina
and
Vampirina Hosts a Sleepover
, and has had stories, poems, and articles for kids published in such magazines as
Highlights for Children
,
My Friend
,
Wee Ones
, and
On the Line
. She lives in Charlottesville, Virginia, with her husband and four teenagers.
LeUyen Pham (www.leuyenpham.com) is the prolific and bestselling illustrator of many books for children, including Grace for President by Kelly DiPucchio, Freckleface Strawberry by Julianne Moore and God's Dream by Archbishop Desmond Tutu. Pham has also written and illustrated her own works, including All the Things I Love About You and Big Sister, Little Sister. A former animator for Dreamworks, she lives with her husband and two sons in Los Angeles.
Praise For Vampirina at the Beach…
PRAISE FOR VAMPIRINA BALLERINA

*"Pham (All the Things I Love About You) and Pace are entirely in sync in this sweetly goth 'how to' for vampirettes under the spell of something more powerful than anything the dark forces can muster: ballet."—Publishers Weekly, starred review

PRAISE FOR VAMPIRINA BALLERINA HOSTS A SLEEPOVER

"Pace's droll advice contrasts delightfully with Pham's spooky-comical watercolors, . . . and it should prove heartening for readers who feel that their families are a bit different."—Publishers Weekly

PRAISE FOR VAMPIRINA BALLERINA HOSTS A SLEEPOVER

"Any gathering at Vampirina's is sure to be a scream."—Horn Book

PRAISE FOR VAMPIRINA BALLERINA HOSTS A SLEEPOVER

"[F]illed with humorous details."—School Library Journal

PRAISE FOR VAMPIRINA BALLERINA

"Pace's funny, matter-of-fact advice ('always get a good day's sleep') works in harmony with Pham's expressive watercolor pen-and-ink artwork, which depicts the adorable minivampire leaping and pli ing enthusiastically across the pages."—Booklist

PRAISE FOR VAMPIRINA BALLERINA

"Readers will applaud this elegantly designed, well-told story. Brava, indeed."—Kirkus Reviews