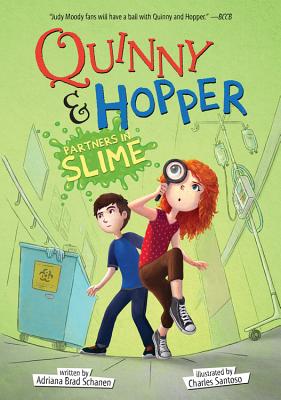 Partners in Slime (Quinny & Hopper Book 2) (Hardcover)
Disney-Hyperion, 9781484775066, 272pp.
Publication Date: October 25, 2016
* Individual store prices may vary.
Description
Quinny and Hopper are unstoppable. Together, they tamed a killer chicken, broke the Third Grade Rules, and proved to everyone that they could be best friends.
But Hopper has doubts that anyone--even Quinny--can save him from his impending doom: a surgery removing tonsils he is really, really not ready to part ways with.
To help Hopper overcome his tonsillectomy fears, Quinny decides to reveals his birthday surprise early: a trip to a museum where they'll get to see a real brain up close and personal. Hopper needs something to live for.
But Quinny is torn when her sometimes-friend, sometimes-enemy, Victoria Porridge, invites her to the most amazing party ever on the exact same day.
Quinny and Hopper are back in this hilarious and heartfelt sequel about friendship, changes, and staying true to yourself.

About the Author
Adriana Brad Schanen lives in Montclair, NJ with her husband and two very, very, extra-very lively daughters. Quinny & Hopper is her first children's book. Visit her online at adrianabradschanen.com. Charles Santoso loves drawing little things in his little journal and dreaming about funny, wondrous stories. He gathers inspiration from his childhood memories and curiosities he discovers in his everyday travels. He has illustrated several picture books, including I Don't Like Koala by Sean Ferrel, Spy Guy: The Not-So-Secret Agent by Jessica Young, and Peanut Butter & Brains by Joe McGee. During the day he works at an animation studio as a concept artist/art director and has been involved in various animated feature film and tv commercial projects. Charles Santoso's work has been exhibited in Sydney and also internationally in North America and France. He currently lives and works in Sydney, Australia.