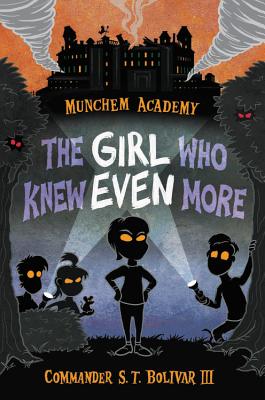 The Girl Who Knew Even More (Munchem Academy #2) (Paperback)
Little, Brown Books for Young Readers, 9781484778616, 272pp.
Publication Date: October 9, 2018
Other Editions of This Title:
Hardcover (10/17/2017)
* Individual store prices may vary.
Description
It's a new semester at the world's top reform school,
MUNCHEM ACADEMY
The snow is melting, the roof is leaking, and Mattie Larimore's father is now in charge. Mattie is worried, though. Mr. Larimore is taking the whole "let's help Headmaster Rooney get back on his feet" thing seriously, and he's whispering all sorts of suggestions to the highly suggestible Rooney.
Then there's the matter of the school's weather. It's getting . . . strange. Mini-tornados sweep up out of nowhere. Rain pours inside. And there was that snowstorm-that yellow snowstorm.
Speaking of strange, Delia Dane-Matoe's future archemesis-has just arrived at Munchem Academy. She seems to know a lot about Mattie and Munchem. Too much. But how? And . . . why?
Once Mattie, Caroline, and Eliot figure out the truth behing the weird weather and Delia Dane, they need to act. Fast. There's only one thing to do: save the world-again. It's a tall order for a short kid,. But Mattie has a plan. . . .
About the Author
Commander S. T. Bolivar, III was born at a very young age and has been working on a personal motto ever since. He is currently torn between "The bigger the lie, the more they'll believe it" and "Cheer up! The worst is yet to come." Bolivar is best known for his scholarly codices on the origins of the world's finest criminal minds; his works are often recommended by people who recommend things. Despite the commander's astonishing success, he frequently considers giving it all up to become a billionaire. Or, the hero of a prophecy.
Praise For The Girl Who Knew Even More (Munchem Academy #2)…
Praise for The Boy Who Knew Too Much (Munchem Academy Book #1)
"A mix of humor, sci-fi, and mystery that leads the reader on an adventure with a well-developed group of characters."—School Library Connection

"An enjoyable read. Mattie is a relatable and likable protagonist, and readers will chuckle at his and his friends' antics... Fans of Lemony Snicket will appreciate this humorous mystery."

—School Library Journal