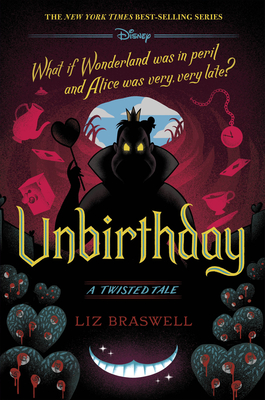 Unbirthday
A Twisted Tale
Hardcover

* Individual store prices may vary.
Other Editions of This Title:
Compact Disc (9/22/2020)
MP3 CD (9/22/2020)
Description
What if Wonderland was in peril and Alice was very, very late?
Alice is different than other eighteen-year-old ladies in Kexford, which is perfectly fine with her. She'd rather spend golden afternoons with her trusty camera or in her aunt Vivian's lively salon, ignoring her sister's wishes that she stop all that "nonsense" and become a "respectable" member of society. Alice is happy to meander to Miss. Yao's teashop or to visit the children playing in the Square. She's also interested in learning more about the young lawyer she met there, but just because she's curious, of course, not because he was sweet and charming.
But when Alice develops photographs she has recently taken about town, familiar faces of old suddenly appear in the place of her actual subjects-the Queen of Hearts, the Mad Hatter, the Caterpillar. There's something eerily off about them, even for Wonderland creatures. And as Alice develops a self-portrait, she finds the most disturbing image of all-a badly-injured dark-haired girl asking for Alice's help. Mary Ann.
Returning to the place of nonsense from her childhood, Alice finds herself on a mission to stop the Queen of Hearts' tyrannical rule and to find her place in both worlds. But will she able to do so . . . before the End of Time?
Read the entire Twisted Tale series!
A Whole New World
Once Upon a Dream
As Old As Time
Reflection
Part of Your World
Mirror, Mirror
Conceal, Don't Feel
Straight On Till Morning
So This is Love
Unbirthday
Disney-Hyperion, 9781484781319, 512pp.
Publication Date: September 1, 2020
About the Author
Liz Braswell spent her childhood reading fairy tales, dreaming, and going on adven­tures in the woods with her cat. After majoring in Egyptology at Brown University (and yes, she can write your name in hieroglyphs) she promptly spent the next ten years producing video games. Finally Liz caved in to fate and wrote Snow and Rx under the name Tracy Lynn, followed by the Nine Lives of Chloe King series under her real name, because by then the assassins hunting her were all dead. She is also the author of Stuffed and several other Twisted Tales, including A Whole New World, Once Upon a Dream, As Old as Time, and Part of Your World. She lives in Brooklyn with a husband, two children, a cat, a part­time dog, three fish, and five coffee trees-one of which has already produced a rather tolerable espresso. You can email her at me@lizbraswell.com or tweet @ LizBraswell or instagram @lizbraswell.