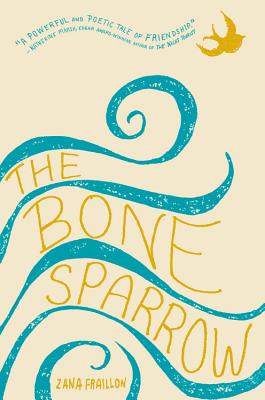 The Bone Sparrow (Hardcover)
Disney-Hyperion, 9781484781517, 240pp.
Publication Date: November 1, 2016
Other Editions of This Title:
Paperback (12/5/2017)
Prebound (12/5/2017)
* Individual store prices may vary.
Description
"Indispensable."-Booklist (starred review)
CARNEGIE MEDAL 2017 FINALIST

Subhi is a refugee. He was born in an Australian permanent detention center after his mother and sister fled the violence of a distant homeland, and the center is the only world he knows. But every night, the faraway whales sing to him, the birds tell him their stories, and the magical Night Sea from his mother's stories brings him gifts. As Subhi grows, his imagination threatens to burst beyond the limits of the fences that contain him. Until one night, it seems to do just that.

Subhi sees a scruffy girl on the other side of the wire mesh, a girl named Jimmie, who appears with a notebook written by the mother she lost. Unable to read it herself, Jimmie asks Subhi to unravel her family's love songs and tragedies that are penned there.

Subhi and Jimmie might both find comfort-and maybe even freedom-as their tales unfold. But not until each has been braver than ever before and made choices that could change everything.
About the Author
Zana Fraillon was born in Melbourne Australia, but spent her early childhood in San Francisco. Zana has written two picture books for young children, a series for middle readers, and a fictitious book for older readers based on research and recounts of survivors of the Forgotten Generation. She now lives in Melbourne, with her three sons, husband and two dogs. When Zana isn't reading or writing, she likes to explore the museums and hidden passageways scattered across Melbourne. They provide the same excitement as that moment before opening a new book ? preparing to step into the unknown where a whole world of possibilities awaits.
Praise For The Bone Sparrow…
"Outstanding... This is an important, heartbreaking book with frequent, unexpected humor that everyone...should read."—
The Guardian
* "The pivoting story line, with chapters alternating among Subhi, Jimmie, and sparkling slivers of family lore, allows Fraillon to explore the many faces of otherness, bravery, and solidarity. But Subhi's narrative, whether he's squabbling with a rubber duck or searching the stars, remains the standout of the three: wide-eyed, heartfelt, and infectiously imaginative... This tale is breathtaking and indispensable. As Subhi might say, 'there is a fierce' inside of it."—
Booklist (starred review)Accolades
Carnegie Medal 2017 Finalist
Winner of the 2017 Amnesty CILIP Honor
Guardian Children's Fiction Prize 2016 Finalist
A 2017 Bank Street Best Children's Book of the Year
A 2017 CCBC Choices Selection
Maine Student Book Award 2017 Finalist
—
???
"Thought-provoking and affecting... Hand to readers who appreciated Linda Sue Park's
A Long Walk to Water
."—
School Library Journal
"An author worth watching."—
Kirkus Reviews
"The Bone Sparrow
is a book you'll feel in your chest long after you finish. It's about stories that ache to be told, and the transformational power of sharing them. Though Subhi's journey is confined by fences, he finds magic and great injustice, tragedy and courage-and ultimately, wings."—
Kirsten Hubbard, author of Watch the Sky and Race the Night
"Fraillon's story is stark and urgent; her afterword tells more about the "all-too-true reality" that inspired the book."—
The Horn Book
* "Fraillon crafts a harrowing vision of life in the detention center, yet Subhi finds solace in sensitively portrayed friendships with a rebellious older boy, a compassionate guard, and an intrepid girl named Jimmie While addressing themes of loss, desperation, and injustice in an all-too-relevant setting, Fraillon's resonant novel underscores the healing power of story."—
Publishers Weekly (starred review)
"Zana Fraillon's powerful and poetic tale of friendship in the face of injustice will fly away with your heart."—
Katherine Marsh, Edgar Award-winning author of The Night Tourist
"A special book."—
Morris Gleitzman, author of Once