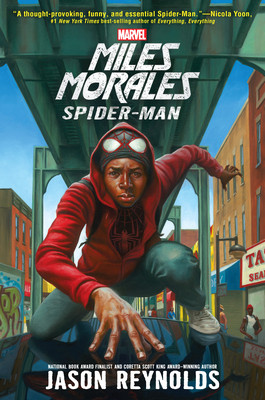 Miles Morales
Spider-Man (A Marvel YA Novel)
Hardcover

* Individual store prices may vary.
Other Editions of This Title:
Paperback (10/2/2018)
Description
"Everyone gets mad at hustlers, especially if you're on the victim side of the hustle. And Miles knew hustling was in his veins."

Miles Morales is just your average teenager. Dinner every Sunday with his parents, chilling out playing old-school video games with his best friend, Ganke, crushing on brainy, beautiful poet Alicia. He's even got a scholarship spot at the prestigious Brooklyn Visions Academy. Oh yeah, and he's Spider Man.
But lately, Miles's spidey-sense has been on the fritz. When a misunderstanding leads to his suspension from school, Miles begins to question his abilities. After all, his dad and uncle were Brooklyn jack-boys with criminal records. Maybe kids like Miles aren't meant to be superheroes. Maybe Miles should take his dad's advice and focus on saving himself.
As Miles tries to get his school life back on track, he can't shake the vivid nightmares that continue to haunt him. Nor can he avoid the relentless buzz of his spidey-sense every day in history class, amidst his teacher's lectures on the historical "benefits" of slavery and the modern-day prison system. But after his scholarship is threatened, Miles uncovers a chilling plot, one that puts his friends, his neighborhood, and himself at risk.
It's time for Miles to suit up.

Complete your Marvel YA collection with these best-selling fan-favorite novels:
Loki: Where Mischief Lies by Mackenzi Lee
Gamora and Nebula: Sisters in Arms by Mackenzi Lee
Unstoppable Wasp by Sam Maggs
Black Widow: Red Vengeance by Margaret Stohl
Black Widow: Forever Red by Margaret Stohl
Captain Marvel: Higher, Further, Faster by Liza Palmer
Praise For Miles Morales: Spider-Man (A Marvel YA Novel)…
"A must-read for any fan of Spider-Man."—Brian Michael Bendis, co-creator of Miles Morales

"A thrilling joyride through the streets of Brooklyn. Jason Reynolds's fresh voice and unflinching truth-telling bring a whole new vitality to the Spider-Man story. Absolutely brilliant."—Daniel José Older, <EM>New York Times</EM> best-selling author of <EM>Shadowshaper</EM>

"An expertly spun tale of identity that takes Miles—just like Peter Parker, the original Spider-Man—from questioning who he is to finding a fair measure of purpose and resolve."—<EM>The Horn Book</EM>

"Impressively original; Reynolds' masterful depiction of Miles' everyday life and the challenges he sees in his neighborhood gives the tale unexpected currency and depth."—The Bulletin of the Center for Children's Books

"Jason Reynolds has written a thought-provoking, funny and essential Spider-Man. Never has the character felt more human or real."—Nicola Yoon, #1 <EM>New York Times</EM> best-selling author of <EM>Everything, Everything</EM> and <

"Reynolds has crafted a rich, developed portrait of complex teen life while addressing issues of racism in the modern world with his characteristic warmth and humorous touches. Give this to teens looking to make the leap from comics to novels, or any other readers interested in superhero action set in an urban landscape."—<EM>School Library Journal</EM>

"With great talent comes great opportunity, and Jason Reynolds uses his to do Miles Morales proud. Equal parts hero and heart, this is the Spidey 2017 wants and needs."—Margaret Stohl, #1 <EM>New York Times</EM> best-selling author of <EM>Black Widow: Forever Red</EM>

* "[Miles Morales] completely transcends its genre. The result is an engrossing novel for teens boasting familiar and timely themes that add flavor and complexity to the Spider-Man mythos... A page-turner with a heart and a soul."—Kirkus Reviews (starred review)
Marvel Press, 9781484787489, 272pp.
Publication Date: August 1, 2017
About the Author
JASON REYNOLDS is the author of the critically acclaimed When I Was the Greatest, for which he was the recipient of the Coretta Scott King / John Steptoe Award for New Talent; the Coretta Scott King Honor books The Boy in the Black Suit and All American Boys (cowritten with Brendan Kiely); As Brave As You, his middle grade debut; and National Book Award finalist Ghost, the first in a four-book series about kids on an elite track team. Jason recently moved to Washington, DC, but before that spent many years in Miles Morales's very own Brooklyn, New York.