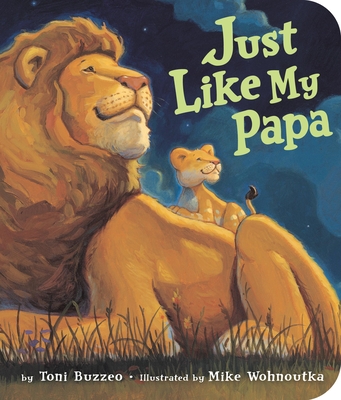 Just Like My Papa
Board book

* Individual store prices may vary.
Description
Kito wants to be just like his papa, the protector of the pride. Throughout a day and night on the savanna, the cub imitates the way his father roars, swings his tail, shakes his head, and pounces.Kito may be too little to catch a wildebeest, but he is brave enough to succeed in his own hunt. Someday he will be King, just like Papa.

With its rhythmic text, dramatic moments on the African plain, and playful times for cub and papa, this book will makes a perfect read-aloud for family sharing.
Praise For Just Like My Papa…
"The acrylic illustrations are larger than life and show the expanses of the savannah but remain warm and kid-friendly, especially in the lions' depth of expression, ranging from curiosity to impatience, from concern to pride. The pacing is superb, with just the right amount of drama for the youngest readers yet awash with reassuring paternal love and care for young Kito."—School Library Journal

"The warm and reassuring flow of the text coupled with the dramatic painterly scenes of the African landscape come together for a likable tale just in time for Father's Day."—Kirkus Reviews

"The personification of the lions allows the love between father and son to radiate throughout both the text and the luscious full-page colored illustrations. The book's rich, rhythmic language makes it a good candidate for reading aloud to a group. At the same time, its quiet nature makes for a good one-on-one sharing, too."—Booklist
Little, Brown Books for Young Readers, 9781484787953, 32pp.
Publication Date: April 11, 2017
About the Author
Toni Buzzeo (www.tonibuzzeo.com) is a children's book author and reviewer and retired school library media specialist. She speaks at national, state, and regional library and reading conferences and does author visits at schools across the country.Among her many books are My Bibi Always Remembers and Stay Close to Mama, companions to this book, and the Caldecott Honor-winning and New York Times best-selling One Cool Friend, ilustrated by David Small. She lives in Massachusetts.


Mike Wohnoutka (www.mikewohnoutka.com) grew up in Spicer, Minnesota. His dad, an engineer, would bring home reams of paper with highway plans on one side. Mike filled the blank side of the sheets with drawings of race cars, snowmobiles, baseball players, super heroes-everything he was interested in. In high school his art teacher encouraged him to pursue art as a career. He graduated from the Savannah College of Art and Design with a B.F.A. in illustration. Mike has published books with Random House, Dutton, Clarion, and Holiday House. He enjoys visiting schools and talking to students about illustrating children's books. He currently resides in Minneapolis with his wife and two children.