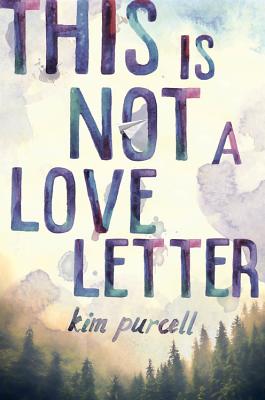 This Is Not a Love Letter (Hardcover)
Disney-Hyperion, 9781484798348, 368pp.
Publication Date: January 30, 2018
Other Editions of This Title:
Paperback (12/4/2018)
* Individual store prices may vary.
Description
"[A] long, beautiful, heart-breaking love letter to potential and possibilities and hope, to the pain we survive in youth and carry with us into adulthood."
--NPR Book Reviews
One week. That's all Jessie said. A one-week break to get some perspective before graduation, before she and her boyfriend, Chris, would have to make all the big, scary decisions about their future--decisions they had been fighting about for weeks.
Then, Chris vanishes. The police think he's run away, but Jessie doesn't believe it. Chris is popular and good-looking, about to head off to college on a full-ride baseball scholarship. And he disappeared while going for a run along the river--the same place where some boys from the rival high school beat him up just three weeks ago. Chris is one of the only black kids in a depressed paper mill town, and Jessie is terrified of what might have happened.
As the police are spurred to reluctant action, Jessie and others speak up about the harassment Chris experienced and the danger he could be in. But there are people in Jessie's town who are infuriated by the suggestion that a boy like Chris would be a target of violence. They smear Chris's character and Jessie begins receiving frightening threats.
Every Friday since they started dating, Chris has written Jessie a love letter. Now Jessie is writing Chris a letter of her own to tell him everything that's happening while he's gone. As Jessie searches for answers, she must face her fears, her guilt, and a past more complicated than she would like to admit.
About the Author
Kim Purcell grew up in British Columbia, Canada, and now lives in Los Angeles with her husband, two kids, dog, and three cats. She is currently getting her MFA in writing for children and young adults at the Vermont College for Fine Arts.
Praise For This Is Not a Love Letter…
"Thanks to its diversity of characters and emphasis on an interracial relationship, this novel has broad appeal. Purcell is able to masterfully address an array of topics in this novel... a feat not many can achieve."—
VOYA
*"Purcell handles the nuances of interracial relationships with a remarkably sensitive and observant eye and challenges readers to view racism under a broader category of generalizations. A poignant interracial love story that grapples with hate and violence."—
--Kirkus Reviews, starred review
"Ultimately,
This Is Not a Love Letter
is, in fact, just that - a long, beautiful, heart-breaking love letter to potential and possibilities and hope, to the pain we survive in youth and carry with us into adulthood."—
NPR Book ReviewsAccolades
Teenreads' Teen Choice Book Award 2019, nominee
BNTeen 14 of our most Anticipated Sophomore Novels of 2018, selection
Kirkus/HuffPost: 12 Early 2018 Books We Love, selection
Brit+Co: 3 New Smart, Savvy, and Diverse YA Books, selection
RealSimple: 4 Young Adult Books that Will Change the Way You Think About YA, selection (2018)
NPR: Guide to 2018's Great Reads, selection
BookRiot: 40+ YA Paperbacks for Winter Reading, selection (2018)
Bustle: 15 Books With Typography-Driven Covers That Will Definitely Grab Your Attention, selection (2019)
"Part love story, part mystery, this brave novel will make you feel, wonder, and think."—
Tamara Ireland Stone, New York Times best-selling author of Every Last Word
"The weight of the novel's climax was balanced with the hope and freedom Purcell gives in the last few chapters. All the pressure built up over the last few hundred pages dissipates as Jessie turns her focus toward the future. It made me hopeful for her, but also for myself."—
Hypable
"This is an engrossing, tense tale about love and loss and survival."
—
BCCB