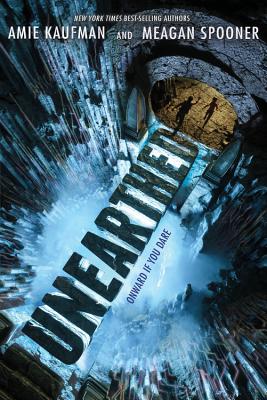 Unearthed
Paperback

* Individual store prices may vary.
Other Editions of This Title:
Hardcover (1/9/2018)
Description
From the New York Times best-selling author duo Amie Kaufman and Meagan Spooner comes a "literally breathtaking" new sci-fi series about a death-defying mission on an alien planet.

When Earth intercepts a message from a long-extinct alien race, it seems like the solution humanity has been waiting for. The Undying's advanced technology has the potential to undo environmental damage and turn lives around, and their message leads to the planet Gaia, a treasure trove waiting to be explored.

For Jules Addison and his fellow scholars, the discovery of an ancient alien culture offers unprecedented opportunity for study . . . as long as scavengers like Amelia Radcliffe don't loot everything first. Despite their opposing reasons for smuggling themselves onto the alien planet's surface, they're both desperate to uncover the riches hidden in the Undying temples. Beset by rival scavenger gangs, Jules and Mia form a fragile alliance . . . but both are keeping secrets that make trust nearly impossible.

As they race to decode the ancient messages, Jules and Mia must navigate the traps and trials within the Undying temples and stay one step ahead of the scavvers on their heels. They came to Gaia certain that they had far more to fear from their fellow humans than the ancient beings whose mysteries they're trying to unravel. But the more they learn about the Undying, the more Jules and Mia start to feel like their presence in the temple is part of a grand design -- one that could spell the end of the human race . . .
Praise For Unearthed…
Praise for The Starbound series
*"Lilac and Tarver are characters of depth, complexity, and strength, young people who alternatively elicit the reader's admiration, frustration, and sympathy... a testament to love, loyalty, courage, and the power of good over dystopian greed and perversity."
—
Booklist, starred review
"Kaufman and Spooner's debut collaboration is a stunning, gorgeously imagined romance with epic sweep, brimming with lush detail of setting and intricate character study. It's the kind of read to savor, but the survivalist plotting still rushes the reader to keep turning pages."—
Ingram Library Group
"One of the most intense, thrilling, and achingly beautiful stories I've ever read."—
Marie Lu, New York Times best-selling author of the Legend trilogy
"Kaufman and Spooner prove that their first brilliant installment was no fluke with this strong second outing. They provide complex characters and a situation with no simple solution. There is action, a spark of romance, and a mystery, all set on a fully-realized planet. This should have broad appeal among teen and adult science fiction readers."—
School Library Journal
Little, Brown Books for Young Readers, 9781484799833, 352pp.
Publication Date: December 4, 2018
About the Author
Amie Kaufman and Meagan Spooner are longtime friends and sometime flatmates who have traveled the world (but not yet the galaxy), covering every continent between them. They are sure outer space is only a matter of time. Meagan, who is also the author of the Skylark trilogy, currently lives in Asheville, North Carolina. Amie, who is the coauthor of the Illuminae Files, lives in Melbourne, Australia. Although they currently live apart, they are united by their love of space opera, road trips, and second breakfasts. You can find them on Twitter @AmieKaufman and @MeaganSpooner.