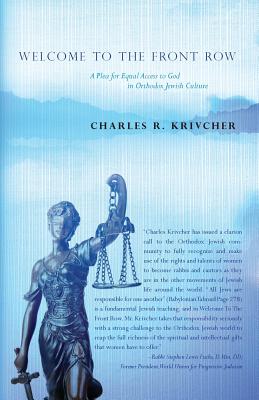 Welcome to the Front Row: A Plea for Equal Access to God in Orthodox Jewish Culture (Paperback)
A Plea for Equal Access to God in Orthodox Jewish Culture
Createspace Independent Publishing Platform, 9781484811580, 162pp.
Publication Date: May 15, 2013
About the Author
Charles R. Krivcher, a native Tennessean, is a lawyer and retired soldier, who served for 20 years as an intelligence officer in the United States Army Reserve (USAR), retiring at the rank of Lieutenant Colonel (LTC). Graduating from the University of Tennessee at Knoxville in 1971, Charles obtained his law degree from the University of Memphis, Cecil C. Humphreys School of Law in 1973 and completed the United States Army's Command & General Staff College in 1993. He is a member of the American, Tennessee and Nashville Bar Associations and currently serves on the Board of Trustees for his Reform Temple (Congregation Ohabai Sholom) in Nashville. His previously published article entitled "Lessons in the Mirror" (Reform Judaism Magazine, September 2011) was a warm-up of sorts for "Welcome To The Front Row." He is hard at work on a new writing project which he hopes to have published in early 2014.
Advertisement