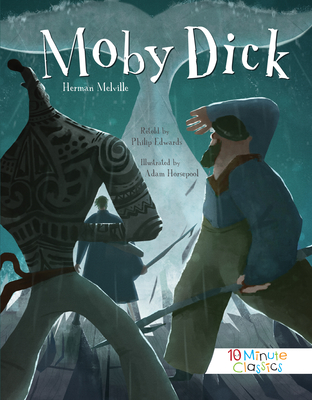 Moby Dick (10 Minute Classics)
Hardcover

* Individual store prices may vary.
Other Editions of This Title:
Paperback (11/20/2017)
Paperback (1/14/2017)
Paperback (7/28/2016)
Paperback (6/7/2017)
Paperback (4/26/2017)
Paperback (10/20/2016)
Paperback (10/12/2017)
Paperback (4/4/2017)
Paperback (9/16/2017)
Paperback (10/13/2017)
Paperback (8/12/2017)
Paperback (5/16/2017)
Paperback (10/17/2017)
Paperback (10/10/2017)
Paperback (8/5/2017)
Paperback (3/21/2017)
Paperback (10/10/2017)
Paperback (7/31/2017)
Paperback (7/31/2017)
Description
Come along on an unforgettable journey across the ocean in this seaworthy retelling of the classic tale about a whaling ship, its formidable captain, and his relentless search for the great white whale of legend.

This adapted and condensed fully illustrated version of the tale by Herman Melville will introduce young readers to the beloved characters from the original and give them a taste of the adventure-filled classic.

About the 10 Minute Classics series: The 10 Minute Classics series is a great introduction to classic literature, designed to spark a love for great stories and an openness to the classics as reading skills progress. These short, fully illustrated dust-jacketed picture books introduce key characters, storylines, and settings to engage young readers. A broad range of titles is now available, including: Moby Dick, The Adventures of Tom Sawyer, Little Women, and more.
Flowerpot Press, 9781486712007, 32pp.
Publication Date: April 4, 2017
About the Author
Having successfully built his very own bakery, Philip Edwards has since turned his eye to other creative pursuits. Apprenticing at a local publishing company led to his first book, Moby Dick, and his very first collaboration with illustrator by Adam Horsepool. The duo teamed up again to round out the adventure series with King Arthur and Robin Hood.Adam Horsepool, an avid doodler since childhood, always dreamed of making a career out of his passion for art. He pursued his dream and graduated from the University of Lincoln (UK) with a degree in animation, which jumpstarted his career as an illustrator and made him fall in love with concept art.