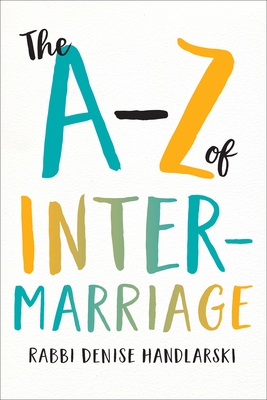 The A-Z of Intermarriage (Paperback)
New Jewish Press, 9781487506780, 248pp.
Publication Date: February 10, 2020
* Individual store prices may vary.
Description
Most Jewish communities continue to cite intermarriage as the most serious threat to Jewish continuity. Contrary to the view that intermarriage is a crisis for Judaism, The A-Z of Intermarriage reveals that intermarriage can be a force for good in the lives of Jewish families and communities.
Written by Rabbi Denise Handlarski, an intermarried rabbi, The A-Z of Intermarriage is part story, part strategy, and all heart, as well as a coming together of religious source material, cultural context, and personal narrative. Fun to read and full of helpful and practical tips and tools for couples and families, this book is the perfect "how-to" manual for living a happy and balanced intermarried life.
This book is for people who:
- Are intermarried, open to intermarriage, or considering intermarriage
- Have family members or friends who are intermarried or entering into an interfaith/intercultural relationship
- Are seeking models, guidance, and tips about creating a happy relationship and family
- Are interested in points of view about intermarriage and/or Judaism they have never heard or considered
- Love "how-to" books
- Want to know more about Jewish approaches to life, learning, and love