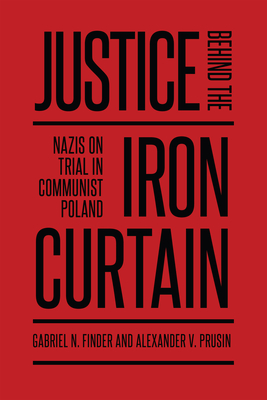 Justice Behind the Iron Curtain (Paperback)
Nazis on Trial in Communist Poland (German and European Studies)
University of Toronto Press, 9781487522681, 400pp.
Publication Date: October 18, 2018
Other Editions of This Title:
Hardcover (11/16/2018)
* Individual store prices may vary.
Description
In Justice behind the Iron Curtain, Gabriel N. Finder and Alexander V. Prusin examine Poland's role in prosecuting Nazi German criminals during the first decade and a half of the postwar era. Finder and Prusin contend that the Polish trials of Nazi war criminals were a pragmatic political response to postwar Polish society and Poles' cravings for vengeance against German Nazis. Although characterized by numerous inconsistencies, Poland's prosecutions of Nazis exhibited a fair degree of due process and resembled similar proceedings in Western democratic counties.
The authors examine reactions to the trials among Poles and Jews. Although Polish-Jewish relations were uneasy in the wake of the extremely brutal German wartime occupation of Poland, postwar Polish prosecutions of German Nazis placed emphasis on the fate of Jews during the Holocaust.
Justice behind the Iron Curtain is the first work to approach communist Poland's judicial postwar confrontation with the legacy of the Nazi occupation.