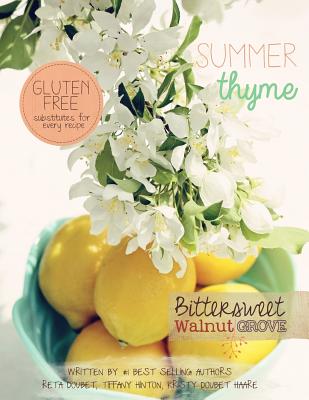 Summer Thyme: Bittersweet Walnut Grove (Paperback)
Bittersweet Walnut Grove
Createspace Independent Publishing Platform, 9781489532367, 80pp.
Publication Date: May 21, 2013
About the Author
There are few things more rewarding than sharing a table laden with fruits, vegetables, and herbs harvested in season. A collection of heirloom recipes showcase just-picked ingredients from breakfast to dinner, making the most of your seasonal bounty. Explore the best of each cookbook with practical information to set the table for flavorful meals designed to be shared. This series unfolds more than preparing and sharing wholesome foods; in its roots it is about family. Written by farmer's daughters, the pages are layered with personal stories from their childhood on a centennial Midwestern farm. Inspired by their love of seasonally fresh produce and simplistic farm life; each title encompasses the beauty of America's farmlands and charming family photos in the garden, farmhouse, barn, and pastures. The stories and photography bring to life many of the beautiful farm-to-table recipes and virtues of homemade and homegrown. Bittersweet Walnut Grove's series presents a simplistic approach, to bring fresh food whether from the store or homegrown, right to the table. The gluten free individual is now demanding not only safe foods which are free from gluten containing grains and additives, but are also flavorful. Bittersweet Walnut Grove reaches out to those with celiac disease or gluten intolerance by providing the option to convert each recipe with gluten free substitutes. As a result, this allows anyone to experience their family favorites with all the flavors from the garden. With simple substitutions, every recipe can be converted to gluten, nut, and often dairy free alternatives allowing meals to cater to all family members with or without food allergies. With the sisters of Bittersweet Walnut Grove you can share delicious, allergy friendly, seasonal meals on your table throughout the year.
Advertisement