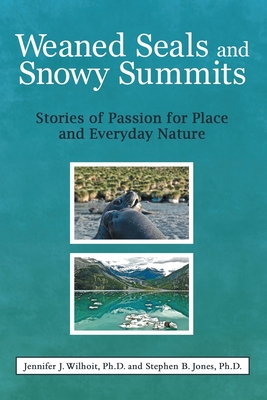 Weaned Seals and Snowy Summits (Paperback)
Stories of Passion for Place and Everyday Nature
Liferich, 9781489723529, 148pp.
Publication Date: August 12, 2019
Other Editions of This Title:
Hardcover (8/12/2019)
* Individual store prices may vary.
Description
Weaned Seals and Snowy Summits is a collection of revelations that two Earth-loving souls have gleaned through nature exploration. The authors are focused on how soil and birds; trees and rivers; rain, cycles, and science can inspire creativity and care for the land. The authors' lives have taken different trails, yet they are aligned in promoting environmental stewardship through understanding, inspiration, and enjoyment of the ecological world. They share the goal of leaving the world a better place. It is by deep engagement with creatures and landscapes that one feels the interconnection with the web of all living beings and finds wisdom for everyday living. Travel through the pages of this book to see the beauty and awe of this Earth. ...tales of wonder...contributes to our understanding of the interdependence of life... BJ Kempner Award-Winning Writer-Producer ...an enchanting, inspiring, important book... C Charles, Ph.D. Co-Founder Children and Nature Network ...compelling, passionate, memorable journey through transcendent prose...an intimate invitation to rediscover our natural world... RS Raney Environmental Educator ...descriptive passages and philosophical musings...encounters with nature in its glory... K Tichenor, Ed.D. Sr VP Worcester Polytechnic Institute ...an exultation of life...sheer poetry as we hunger for wholeness... HB Rinker, Ph.D. Ecologist ...rich with texture and imagery... K Trnka M.S.Ed. Sacred Earth Publishing ...an engaging read flowing from two nature-appreciating people... JT McGill, Ph.D. Retired Sr. VP Johns Hopkins University ...guidance to motivate readers to make their own connection to Earth... RG Dodson Author.
About the Author
Jennifer J. Wilhoit, PhD is a spiritual ecologist, the founder of TEALarbor stories, and the author of books, articles, and blogs focused on the inner/outer landscape. Learn more: www.tealarborstories.com
Stephen B. Jones, PhD is a passion-fueled, purpose-driven, retired four-time university president; lifelong nature enthusiast; environmental educator; Earth steward; author; speaker; land ethicist; husband, father, and grandfather. Learn more: stevejonesgbh.com
Praise For Weaned Seals and Snowy Summits: Stories of Passion for Place and Everyday Nature…
…tales of wonder…contributes to our understanding of the interdependence of life… BJ Kempner Award-Winning Writer-Producer
…an enchanting, inspiring, important book… C Charles, Ph.D. Co-Founder Children and Nature Network …compelling, passionate, memorable journey through transcendent prose…an intimate invitation to rediscover our natural world… RS Raney Environmental Educator
…descriptive passages and philosophical musings…encounters with nature in its glory… K Tichenor, Ed.D. Sr VP Worcester Polytechnic Institute
…an exultation of life…sheer poetry as we hunger for wholeness… HB Rinker, Ph.D. Ecologist
…rich with texture and imagery… K Trnka M.S.Ed. Sacred Earth Publishing
…an engaging read flowing from two nature-appreciating people… JT McGill, Ph.D. Retired Sr. VP Johns Hopkins University
…guidance to motivate readers to make their own connection to Earth… RG Dodson Author