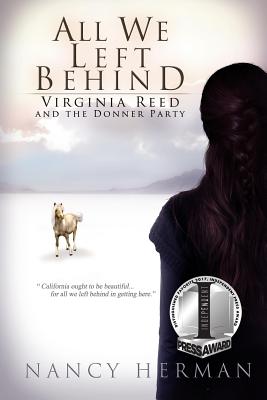 All We Left Behind (Paperback)
Virginia Reed and the Donner Party
Createspace Independent Publishing Platform, 9781490317793, 236pp.
Publication Date: November 7, 2013
* Individual store prices may vary.
Description
WINNER OF 2017 INDEPENDENT PRESS AWARD: DISTINGUISHED FAVORITE FOR HISTORICAL FICTION In 1846 the Reed and Donner families leave Illinois on a 2,000-mile journey to California in search of free land and a healthy climate. Thirteen-year-old Virginia Reed is thrilled to ride ahead of the wagons each day beside her adored father. But enthusiasm turns to alarm when her father and other party leaders make decisions that put the families dangerously behind schedule. Provisions dwindle. Hardships mount. Anger erupts. In a frantic effort to reach California before winter, the Donner Party takes an untried shortcut, with heartbreaking results. Virginia acknowledges the fallibility of the adults in her life and begins to rely on her own judgment. When the party becomes trapped in the Sierra Nevada Mountains by early snows, she must find the courage to defy her father in order to save the rest of her family.
About the Author
Author Nancy Herman is a third-generation Californian who is fascinated with her state's colorful history, including the westward migration of the 1800s. She grew up in the coastal town of Watsonville and earned a Bachelor of Arts in Journalism from San Jose State University. After her 25-year career as a Silicon Valley marketing communications professional, Nancy began researching and writing the award-winning All We Left Behind: Virginia Reed and the Donner Party. "I drew my facts from diaries, letters, and first hand accounts, including Virginia's memoirs," she says. "Research turned out to be one of the most enjoyable and rewarding aspects of writing this book. Another was following the Donner Party's route from Independence, Missouri to Sutter's Fort in Sacramento, California." You can follow the route with her at www.followingthedonnerparty.com "I'm in awe of the toughness and determination of our California ancestors who crossed two-thousand miles or more by wagon, on horseback, and even by foot to start new lives here," she adds. Nancy lives with her husband Tom in the Sierra foothills, not far from the site of the Donner Party's 1846-1847 winter entrapment. She is currently working on a historical novel about the 1906 San Francisco earthquake and fire. Visit Nancy Herman online at http: //www.nancyhermanauthor.com