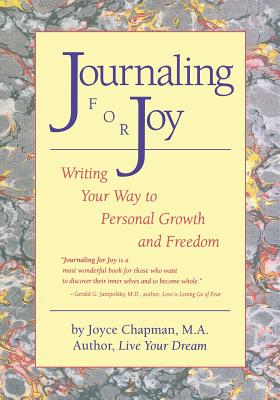 Journaling for Joy (Paperback)
Writing Your Way to Personal Growth and Freedom
Createspace Independent Publishing Platform, 9781490384238, 224pp.
Publication Date: August 13, 2013
* Individual store prices may vary.
Description
Journaling for Joy enables you to take a close look at who you are and what you want. In an original approach to journaling, Joyce Chapman guides you to write from your heart and soul with the aim of arriving at joy - the joy that comes from knowing yourself as an intimate friend and living the life you have created out of conscious choice. The innovative techniques in Journaling for Joy will show you how to: * Capture the meaning and joy in your daily life. * Discover your patterns and ways to change them. * Understand your relationships with others. * Access the wisdom and creativity of your imagination. * Awaken the writer's voice within you. * Actualize your dreams and visions. *Journaling for Joy is filled with over 200 dynamic journaling techniques.
About the Author
Joyce Chapman---dreamer, teacher, coach, speaker and author-has been involved in education and motivational training for over fifty years. Thousands of people have achieved remarkable results through utilizing the structured techniques created in the breakthrough intensive programs in the books, Live Your Dream, The Live Your Dream Workbook, Journaling For Joy, Journaling For Joy: The Workbook, Celebrate Your Dream, Celebrate Your Dream: The Workbook, and her Notice: The Art of Observation serie