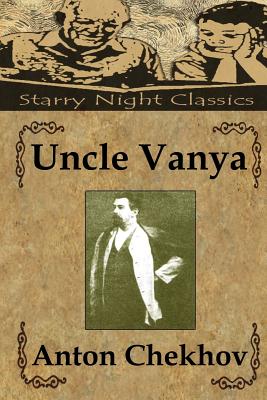 Uncle Vanya
Scenes From Country Life
Paperback

* Individual store prices may vary.
Other Editions of This Title:
Digital Audiobook (1/29/2014)
Paperback (12/8/2020)
Paperback (7/1/2021)
Paperback (5/15/2018)
Paperback (5/7/2020)
Paperback (11/4/2019)
Paperback (1/21/1994)
Paperback (9/2/2018)
Paperback (3/14/2014)
Paperback (10/16/2020)
Hardcover (9/20/2018)
Paperback (10/16/2020)
Paperback (5/20/2018)
Description
Join us for one of Chekhov's masterpieces, one of the precursors of modern drama and a study of middle-class Russian life in the nineteenth century. Two obsessive love affairs lead nowhere, while a minor flirtation brings tragedy.
Createspace Independent Publishing Platform, 9781490496641, 96pp.
Publication Date: June 21, 2013
About the Author
Anton Pavlovich Chekhov was born on January 29, 1860, in Taganrog, Russia, the third of six children. His father ran a grocery store and was physically abusive. His mother was a wonderful storyteller. Young Anton attended a school for Greek boys and sang in the choir at the Greek Orthodox Monastery. His father went bankrupt in 1876 and fled to Moscow to avoid prison, leaving Anton behind to sell their belongings and finish his education, which he financed by tutoring and selling goldfinches that he had caught himself. Then he began writing for newspapers. In 1879 he entered medical school in Moscow, becoming a physician in 1884. During his career as a doctor, he treated the poor for free, making most of his money from writing. In 1885, he began showing signs of tuberculosis. Devoting much time to writing plays, he suffered a major lung hemorrhage in 1897, then a year later, his father died and he moved his mother and sister into a house that he built in Yalta. In 1901, Chekhov married Olga Knipper, but he lived in Moscow while he remained in Yalta. Chekhov died on July 15, 1904, from tuberculosis, at the age of 44, in Badenweiler, Germany. He drank a glass of champagne, turned over on his side and passed quietly away. His body was transported back to Moscow inside a refrigerated boxcar filled with oysters. During his funeral, thousands of mourners mistakenly followed the procession of the wrong man. He is buried next to his father.