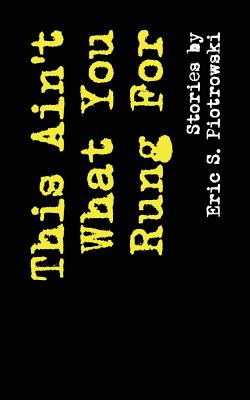 This Ain't What You Rung for (Paperback)
Stories
Createspace Independent Publishing Platform, 9781490517780, 268pp.
Publication Date: July 8, 2013
* Individual store prices may vary.
Description
A collection of stories about love, mercy, prison, video games, music, war, metaphysics, family, language, political resistance, and time.
"As soon as I finished 'Agoraphobia' I wanted to read it again." - Deidre Jarecki Rohr
"In general, however, Eric's narrative strategies work." - Arthur McA. Miller, New College project evaluation (1996)
"He trys way to hard to get the students to pay attention" - Anonymous student, RateMyTeachers.com
"Eric Piotrowski is a writer of singular vision. His prose is engaging and the dialogue always rings true. Everything he writes is layered in meaning, usually with some hidden element that only becomes clear long after the first reading." - Jeanette Thompson.