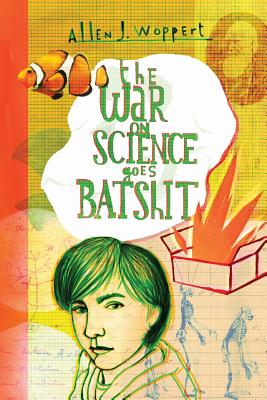 The War on Science Goes Batshit (Paperback)
Createspace Independent Publishing Platform, 9781490590974, 248pp.
Publication Date: October 31, 2013
* Individual store prices may vary.
Description
Most students don't challenge their teachers' methods. But fourteen-year-old Timothy Thompson isn't like most students. He's a certified genius and science geek, and when his biology teacher tries to slip "intelligent design" into the curriculum and then refuses to teach evolution, Timothy simply won't have it. What happens from there is an all-out Batshit war. That's "Batshit" (pronounced baht-SHEET) as in Omar L. Batshit High School in Batshit, Illinois. Will Timothy survive the war he started? Or will he become one of its casualties? A suspenseful, entertaining story, The War on Science Goes Batshit takes a fresh look at the struggle between religion and science from the perspective of a teenage geek, setting it up not only as a politically charged piece but also as a tale of ordinary and extraordinary teens experiencing their first year of high school, the bonds and insecurities of friendship, and first love.
About the Author
Born and raised in Milwaukee, Wisconsin, Allen J. Woppert has lived and worked in various parts of the United States as well as in Germany and Spain. His travels have taken him all over the world, including the Galapagos Islands on the trail of Charles Darwin, the "father" of evolutionary biology. Mr. Woppert is passionate about many things, especially science and social issues. He considers the separation of church and state essential to a functioning modern society.