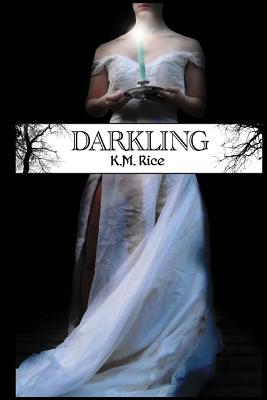 Darkling (Paperback)
Createspace Independent Publishing Platform, 9781490595528, 228pp.
Publication Date: June 25, 2013
Other Editions of This Title:
Paperback (6/25/2013)
* Individual store prices may vary.
Description
How far would you go to save your family? Midsummer used to be a day of feasts and bonfires. A day when cares were set aside for the joy of grass between our toes, warm hands in our palms, laughter in our hearts. Our celebrations dimmed with the light. Something upset the balance of our woods. Something so deep that even our bonfires can't lure the sun back. And he has something to do with it. Of that we're sure, which is why I'm being given to him. DARKLING is K.M. Rice's suspenseful debut novel about a young woman's sacrifice to save her village and the unexpected strength that comes from first love.
About the Author
I wrote and illustrated my first book for fun in kindergarten. When the teacher asked me to show it to the principal, I thought I'd done something horribly wrong until the principal smiled with her red-painted lips and pressed a sticker to the cover, telling me how much she enjoyed my story about a haunted house. Though it took me some time to realize that writing was my preferred form of expression, I have had a drive to tell stories my whole life. I received my BA in English and my MFA in Creative Writing from San Jose State University in Fiction and Screenwriting. I also co-produce and host the webseries "Happy Hobbit" with my sister for TheOneRing.net, the premiere fansite for J.R.R. Tolkien, and am known as "Kili" on camera. My debut novel, Darkling, was inspired by a dream that most would consider a nightmare. I didn't realize I'd written a story about grief until I was done, and I hope that its message will help others as much as the writing helped me. I have many more books in the works and several belong to series. You can always expect whimsy, romance, and heroines in my stories, so please keep your eyes peeled for the next adventure!