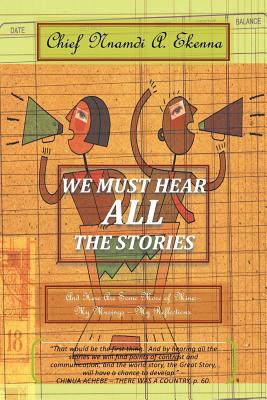 We Must Hear All the Stories (Paperback)
And Here Are Some More of Mine: - My Musings - My Reflections.
Trafford Publishing, 9781490711072, 274pp.
Publication Date: July 16, 2014
Other Editions of This Title:
Hardcover (7/16/2014)
* Individual store prices may vary.
Description
From an innocuous encounter in an airplane, to discourses of the enrichment of the only philosophy his own father handed down to him, through issues of concern for dereliction of education, to building a wholesome and homogeneous community. He highlights issues through his own journey through life and the numerous recordation of those he had made and shared in a span of close to two decades, blending fun and earnest graveness without being preachy or sanctimonious. Drawing from the Desiderata and his favorite prayer, Good Morning God, he uses an engaging discourse form to deliver the message that our stories, individually and collectively, written or unwritten, is the culminant of the world's story. In this book, he shows that inspiration is not farfetched and that from effecting liveability in our immediate surrounding we can shape our story to effect "points of contact and communication" that will eventually give "the world story, the great Story, .....a chance to develop.