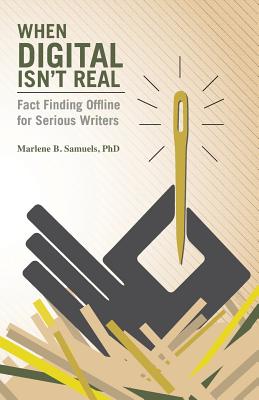 When Digital Isn't Real (Paperback)
Fact Finding Offline for Serious Writers
Createspace Independent Publishing Platform, 9781491071465, 108pp.
Publication Date: July 22, 2013
* Individual store prices may vary.
Description
Do you think all the information you need can be found online? Think again Not all the facts you need to ensure accuracy in your writing is online. And even information that's made its way online may not be all that accurate. The magnitude of online information, accessed at lightening fast speed, has eroded our beliefs in the importance of hard-copy references. Worse, too many writers are losing their research skills. In order to conduct non-digital research, writers need the skills to identify data sources but moreover, knowing how and where to find them, then deciding which ones to use, is both critical and daunting. Every writer who cares about the accuracy of his or her written work needs this book.
About the Author
About Marlene Samuels Marlene Samuels is a writer, independent research sociologist, and an instructor. She earned both her M.A. and Ph.D. degrees from University of Chicago where currently she serves on the Visiting Committee to the Social Sciences. She has been a longtime a member of the University of Chicago's Women's Board. When not writing short stories or creating recipes for her culinary blog, www.anotherdaygourmet.com, Marlene conducts research methodology workshops. Research is a skill she believes is overlooked much too often but one that's critical for writers to master if they hope to establish credibility in their writing. She also teaches workshops that focus on memoir writing methods. Marlene is a guest lecturer and also moderates at independent book clubs. Marlene is a member of Story Circle Network. She serves on their board of directors and is Program Director. She's a member of AROHO Foundation (A Room of Her Own Foundation) and a participant, presenter, and consultant at their Ghost Ranch Writers' Retreat in Abiquiu, New Mexico. Her writing appears in publications such as Lilith Magazine, The Chicago Tribune, ReadyMade Magazine, University of Iowa Summer Writing Anthology, Story Circle Anthology, A Long Story Short, L.A. Review, and a wide range of e-zines and journals. Marlene co-authored and edited her mother's WW-II memoir, The Seamstress: A Memoir of Survival, Penguin-Berkley Press and is completing her book, Broken Chains, Missing Links: A Memoir Told In Short Stories. Marlene is available to conduct workshops and make presentations. Learn about Marlene's areas of expertise, scheduling, and read excerpts of her writing at: marlenesamuels.com marlenesamuels.blogspot.com