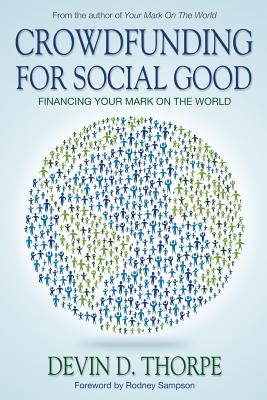 Crowdfunding for Social Good
Financing Your Mark on the World
Paperback

* Individual store prices may vary.
Description
Crowdfunding for Social Good is both practical and inspiring, featuring the stories of real people who have successfully raised big money using crowdfunding and practical advice to help you do the same.Crowdfunding is the newest way for nonprofits and social entrepreneurs to raise money for their causes, projects and companies. By reading this book, you can join the thousands who have successfully raised money to change the world.Learn how to organize your friends, colleagues and volunteers to help you raise big money.Gain insight into creating a video that will help you spread your message via social media.Read how to "start before you start" so you can have 30% of your goal raised before you even launch your crowdfunding campaign.If the only thing preventing you from changing the world is the money you need to do it, you are out of excuses. You can raise the money you need to leave your mark on the world with Crowdfunding for Social Good.
Createspace Independent Publishing Platform, 9781491215739, 170pp.
Publication Date: July 27, 2013
About the Author
Devin Thorpe thinks he is the luckiest person alive. After being "let go" from the best job he'd ever had-as the Chief Financial Officer of the multinational food and beverage company MonaVie-he and his wife ended up living in China for a year where he wrote Your Mark On The World and embarked on the career he'd always wanted yet hadn't dared dream. More recently, Devin completed his latest book, Crowdfunding for Social Good, Financing Your Mark On The World. Now, as an author, a popular guest speaker and Forbes contributor, Devin is devoted full time to championing social good. His current life isn't much like his past. As an entrepreneur, Devin ran-at separate times-a boutique investment banking firm and a small mortgage company. He served as the Treasurer for the multinational vitamin manufacturer USANA Health Sciences years before becoming CFO for MonaVie. Over his career he led or advised on the successful completion of $500 million in transactions. Devin squeezed in two brief stints in government, including two years working for Jake Garn on the U.S. Senate Banking Committee Staff and another year working for an independent state agency called USTAR, where he helped foster technology entrepreneurship during Governor Jon Huntsman's administration. Devin is proud to have graduated from the University of Utah David Eccles School of Business, which recognized him as a Distinguished Alum in 2006. He also earned an MBA at Cornell University where he ran the student newspaper, Cornell Business. Today, Devin channels the idealism of his youth with the loving support of his wife, Gail. Their son Dayton is a PhD candidate in Physics at UC Berkeley (and Devin rarely misses an opportunity to mention that).