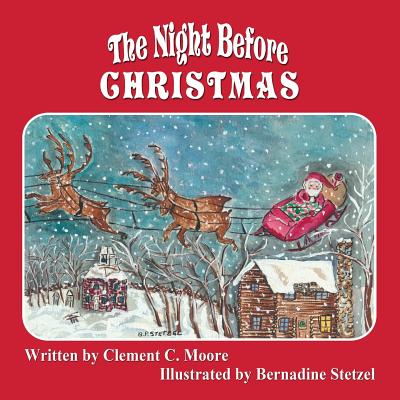 The Night Before Christmas (Paperback)
Createspace Independent Publishing Platform, 9781491252147, 56pp.
Publication Date: August 13, 2013
Other Editions of This Title:
Paperback (10/15/2019)
Hardcover (10/15/2019)
Paperback (11/28/2012)
Paperback (11/6/2012)
Paperback (12/25/2018)
Hardcover (3/28/2019)
Paperback (8/26/2016)
Hardcover (11/14/2012)
Paperback (9/25/2012)
Paperback (12/12/2013)
Hardcover (9/19/2017)
Hardcover (9/27/2011)
Hardcover (11/1/2018)
Hardcover (9/26/2006)
* Individual store prices may vary.
Description
Instead of the usual Victorian-style illustrations, for this age-old Christmas poem by Mr. Moore, Bernadine Stetzel illustrated the story as in her father's birthplace log home and surrounding area of Seneca Country, Ohio in her remarkable American-primitive style of painting. The text is hand printed by Mrs. Stetzel in a lovely readable style which adds personal charm to this story.
About the Author
Clement C. Moore (1779-1863) wrote the original version of this poem as "A Visit from St Nicholas," and it was published for the first time in 1823 by a New York newspaper, The Sentinel. Bernadine Stetzel, the illustrator, lives in Ohio and is a professional artist who paints in the style of American primitive. Her detailed, brightly-colored collection of paintings have been exhibited nationally and hung in public and private galleries throughout the United States and Europe. She has been painting since she was twelve years old. Her other talents include hand-painting 3-dimensional woodcuts, designing and creating handmade quilts and handmade dolls. This is her third published children's book.