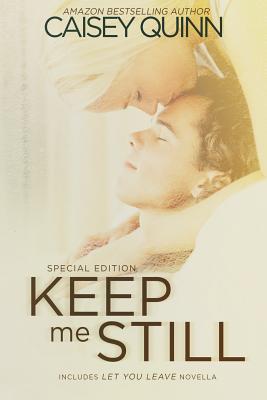 Keep Me Still (Paperback)
Special Edition
Createspace Independent Publishing Platform, 9781491272206, 278pp.
Publication Date: August 1, 2013
* Individual store prices may vary.
Description
New Adult Romance contains MA 17+ content. Layla Flaherty had the perfect life, or close to it. Until a stranger gunned her parents down right in front of her, leaving her with seizure inducing PTSD. After years of trying to pass as normal and failing miserably, she resigns herself to being invisible. But new to town Landen O'Brien sees her, and he likes what he sees. Much to Layla's surprise, he doesn't freak out when she has a seizure in front of him. He does the exact opposite, calming her until the tremors subside. But Landen has secrets of his own. Secrets that both bind them together and tear them apart. Scarred by loss, Layla leaves her hometown of Hope Springs, Georgia, hoping to put her painful past behind her and start over in college in California. When she runs into Landen at freshmen orientation, she has a choice to make. Reinforce those steel walls she's built up around herself or give the only boy who can keep her still a second chance. Landen's more than ready to tear down those walls but this time when they come crashing down, they might bury her.