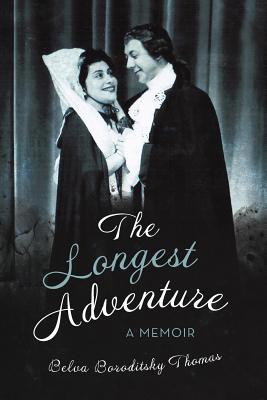 The Longest Adventure
Paperback

* Individual store prices may vary.
Description
Author Belva Boroditsky Thomas loves adventure. She looks for adventure. She creates adventure. She yearns for adventure. Thomas may not climb the Himalayas or search for sunken treasure, but she's always ready to take on the forces of nature working through her life and her relationships.
In The Longest Adventure, Thomas shares her life adventure, beginning with her birth in 1929.
Growing up in a warm, self-reliant, Yiddish-speaking community in Winnipeg, Canada. She became aware early on of the world her parents came from and the wider world around her she could move into if she tried. Leaving both a religious and richly cultural community for an operatic career with the Arts Council Opera Group and the Glyndebourne Opera Festival in Great Britain, she discovered the richness to be found in the music of the great composers and became a promoter of this art form for the rest of her working years.
Marriage to a Welsh teacher of English and a seeker of his own spiritual path in Subud and motherhood with five gifted children was followed by entrepreneurial social work in the creation and development of a community cultural organization, the Preville Fine Arts Centre. She served as chairwoman of the regional school commission that introduced the French immersion program to Canada.
This memoir narrates the adventurous story of one woman who took a leap from one world to another, a plunge from one career to another, and a step from religion to humanism.
iUniverse, 9781491739211, 364pp.
Publication Date: July 18, 2014