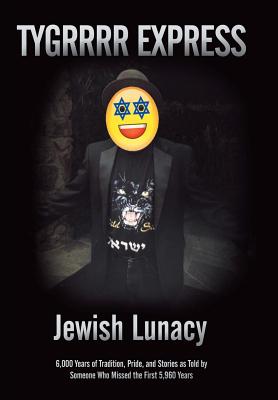 Jewish Lunacy (Hardcover)
6000 Years of Tradition, Pride, and Stories as Told by Someone Who Missed the First 5,960 Years
iUniverse, 9781491760222, 162pp.
Publication Date: March 11, 2015
Other Editions of This Title:
Paperback (3/11/2015)
* Individual store prices may vary.
Description
Jewish Lunacy looks back on six millennia of Jewish history, presenting it as the history of a family by telling it through the reminiscences of Eric, who calls himself the Tygrrrr Express. He grew up hearing stories of heartbreaking pain, insightful wisdom, and sidesplitting humor from Jewish relatives and the elders in Long Island, where he grew up. Drawing upon his family's rich oral traditions, the author explores the deeply serious and humorously welcoming history of the Jewish people. Organized by topics, the book explores the lunacy of the author's growing up and uncovers the strange elements in topics as varied as sex, sports, philosophy, politics, pacifism, conspiracy theories, and religion. If you find yourself bemoaning the bleak landscape of the day's news and would like a refreshing approach in reading stories that take seriously the truly significant realities of life-God, family, and relationships-while finding in them reasons and occasions for laughter, then Jewish Lunacy will take you on a journey through history and entertain you with such stories. As its subtitle promises, Jewish Lunacy tells the stories that 6000 years full of tradition and pride have given as gifts to be passed on to others.