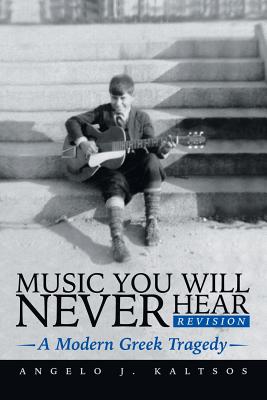 Music You Will Never Hear (Paperback)
A Modern Greek Tragedy
iUniverse, 9781491794210, 248pp.
Publication Date: June 20, 2016
Other Editions of This Title:
Hardcover (6/20/2016)
Paperback (5/18/2005)
* Individual store prices may vary.
Description
MUSIC YOU WILL NEVER HEAR is told from the perspective of the nephew of William Goudas, who was living with his grandmother and William in Roxbury, Massachusetts, when the crime was committed. From his arrest, to his time in confinement, to the time spent with him after parole, author Angelo J. Kaltsos relates the story of his talented guitar-playing uncle's wasted life.In 1946, when nineteen-year-old William "Bill" Goudas was recruited to assist in a daring late-evening burglary, he never would have guessed the night would end with the tragic murder of police sergeant William F. Healey. Presenting a true tale of crime and tragedy, Music You Will Never Hear recounts the events of that October evening decades ago, as told by author Angelo J. Kaltsos, Goudas's nephew. Goudas was a talented musician and had dreams of attending the New England Conservatory of Music, but these were not to come true. Instead, he would spend a large portion of his adult life in prison, leaving his talent to grow only as a prison musician and his family forever affected by the events. From his arrest to his time in confinement to the time spent with him after parole, Kaltsos relates the story of his uncle's wasted life. This personal narrative, presented from a family member's perspective, describes the killing of a police sergeant and the killer's unknown, extraordinary gift as a prison musician."I would have got up and played in those clubs with all those dudes, but there're going to ask, who have you played with. What could I say? I've played in prison for twenty-two years for killing a cop."- William Goudas related this story to the author after his trip to New Orleans.
About the Author
Angelo J. Kaltsos did electronic research on two top-secret projects; taught high school science and electronics at Rindge Technical School in Cambridge, Massachusetts; performed independent ethnological research at the University of New Mexico; and tutored English on an Indian reservation in New Mexico. Now retired, he has organized three environmental organizations and written five works of nonfictions, a poetry book, and a cookbook while living in Andover, Maine. Visit him online at www.westbranchbooks.com.
or
Not Currently Available for Direct Purchase