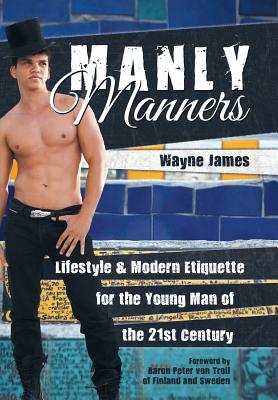 Manly Manners (Hardcover)
Lifestyle & Modern Etiquette for the Young Man of the 21st Century
iUniverse, 9781491794272, 840pp.
Publication Date: November 19, 2016
Other Editions of This Title:
Paperback (9/19/2017)
Hardcover (9/19/2017)
Paperback (11/19/2016)
* Individual store prices may vary.
Description
Manly Manners: Lifestyle & Modern Etiquette for the Young Man of the 21st Century is the first volume of a three-volume treatise on modern men's manners by fashion designer, lawyer, former senator Wayne James. Elegant, sophisticated, and immensely informative--yet edgy, sexy, witty, and even irreverent at times--the trilogy is poised to become the definitive lifestyle guide for the modern man.
Is there a difference in the way one holds a glass of red wine versus a glass of white? How should a young man conduct himself in a gay sauna? What are the rules for "Shopping While Ethnic"? Ever heard of a tabarro? How does a gentleman correctly wear one? What should a young man do (and not do) if detained by law enforcement officers? And what's the best way to survive prison--unraped? How should a gentleman comport himself when invited to coffee in Ethiopia or a funeral in Japan? Is there "gloryhole etiquette"? Who enters a revolving door first: The man or the woman? What about when entering and exiting restaurants? How should transgender people conduct themselves in gender-specific public restrooms? Ladies are taught how to sit, stand, and walk correctly. But what's the comportment for their male counterparts? Is there a way to politely suggest an enema to a sex-partner before engaging in anal sex? And what are the new and emerging rules for planning a same-sex wedding? How should a corn-fed, red-blooded, young man apologize to his tellak for getting a raging erection while being massaged on the g bektasi? Roll over and play dead? When conducting business in China or in the Arab World, what are the faux pas that can kill a multi-million-dollar deal? Is there a difference between a blazer and a sport coat? And what's the history of penny loafers or men's underwear?
Such topics, and many more--some as mundane as how to correctly use a bidet, others as arcane as how to conduct oneself during an Audience with the pope--are addressed in the more than 800 pages of Manly Manners: Lifestyle & Modern Etiquette for the Young Man of the 21st Century. Manners is a man's job; and Manly Manners is the new manual.