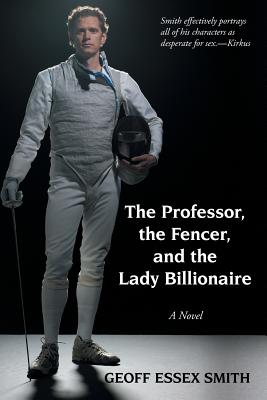 The Professor, the Fencer, and the Lady Billionaire
Paperback

* Individual store prices may vary.
Other Editions of This Title:
Hardcover (6/11/2014)
Description
Reed Scot is a rich, handsome finance professor, New York hedge fund manager, and TV personality. Erick De Juan is a ripped, sexy, young Olympic-medal-winning fencer who works as a currency trader at a big New York bank.
The two gay men have lived together in Manhattan for the last eight years. Now, Erick--the younger of the two--has been badly bitten by the parenting bug. At every opportunity, he's trying to convince Reed it's time for the same-sex couple to start a family by adopting a child or using a surrogate to have one of their own.
On the surface, the life the two men lead together could be the storyline for an episode of a modern gay-themed TV sitcom suitable for prime time.
Behind the scenes, however, far more is going on in the lives of Reed and Erick than meets the eye.
For years, the couple's white-hot sex life has included frequent threesomes with other men, and the bisexual Erick regularly indulges his taste for the opposite sex. At the same time, his hunky good looks attract gay men like a magnet--including billionaire investor Darren Clampett, who is secretly attempting to lure him away from Reed.
Now, as The Professor, the Fencer, and the Lady Billionaire begins, another billionaire enters the picture. Bridge Austin, the recently-widowed Billionaire Soap Queen, who presides over a thirty-billion-dollar soap, detergents, and cosmetics empire, has decided she wants Reed and Erick to move into her fabulous Fifth Avenue penthouse with her. To get her way, she makes the two men an offer they can't refuse.
They accept, setting the stage for a fast-paced tale of sizzling gay, straight, and three-way sex inside a sumptuous private world of grandeur and excess in the sky above Manhattan.
Authorhouse, 9781491818015, 326pp.
Publication Date: June 11, 2014