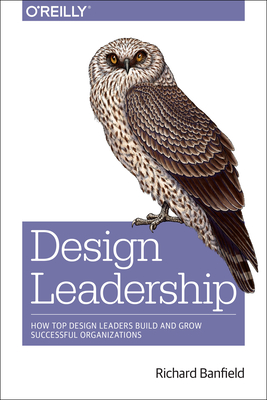 Design Leadership (Paperback)
How Top Design Leaders Build and Grow Successful Organizations
O'Reilly Media, 9781491929209, 172pp.
Publication Date: January 1, 2016
* Individual store prices may vary.
Description
What does it take to be the leader of a design firm or group? We often assume they have all the answers, but in this rapidly evolving industry they're forced to find their way like the rest of us. So how do good design leaders manage? If you lead a design group, or want to understand the people who do, this insightful book explores behind-the-scenes strategies and tactics from leaders of top design companies throughout North America.
Based on scores of interviews he conducted over a two-year period--from small companies to massive corporations like ESPN--author Richard Banfield covers a wide range of topics, including:
How design leaders create a healthy company culture
Innovative ways for attracting and nurturing talent
Creating productive workspaces, and handling remote employees
Staying on top of demands while making time for themselves
Consistent patterns among vastly different leadership styles
Techniques and approaches for keeping the work pipeline full
Making strategic and tactical plans for the future
Mistakes that design leaders made--and how they bounced back
About the Author
The CEO and Co-Founder of Boston-Based User Experience Agency Fresh Tilled Soil, Richard Banfield wears the strategic hat around the office. He's worked his way up the web marketing food chain, starting with online ad sales at MultiChoice, Africa's largest TV and Internet media business. Richard was in the thick of it during the heady dot-com years, founding Acceleration, an international e-marketing business headquartered in London. He has never met a whiteboard he didn't like.