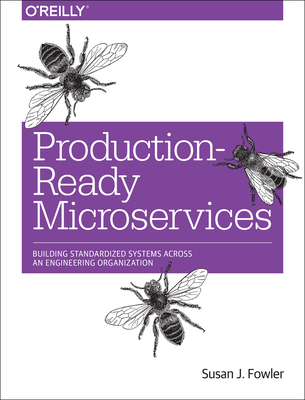 Production-Ready Microservices
Building Standardized Systems Across an Engineering Organization
Paperback

* Individual store prices may vary.
Description
One of the biggest challenges for organizations that have adopted microservice architecture is the lack of architectural, operational, and organizational standardization. After splitting a monolithic application or building a microservice ecosystem from scratch, many engineers are left wondering what's next. In this practical book, author Susan Fowler presents a set of microservice standards in depth, drawing from her experience standardizing over a thousand microservices at Uber. You'll learn how to design microservices that are stable, reliable, scalable, fault tolerant, performant, monitored, documented, and prepared for any catastrophe.
Explore production-readiness standards, including:
Stability and Reliability: develop, deploy, introduce, and deprecate microservices; protect against dependency failures
Scalability and Performance: learn essential components for achieving greater microservice efficiency
Fault Tolerance and Catastrophe Preparedness: ensure availability by actively pushing microservices to fail in real time
Monitoring: learn how to monitor, log, and display key metrics; establish alerting and on-call procedures
Documentation and Understanding: mitigate tradeoffs that come with microservice adoption, including organizational sprawl and technical debt
O'Reilly Media, 9781491965979, 172pp.
Publication Date: December 27, 2016
About the Author
Susan J. Fowler is an author, editor, and engineer. She currently works as an engineer on the infrastructure team at Stripe. Previously, she worked on microservice standardization at Uber, developed application platforms and infrastructure at several small startups, and studied particle physics at the University of Pennsylvania.