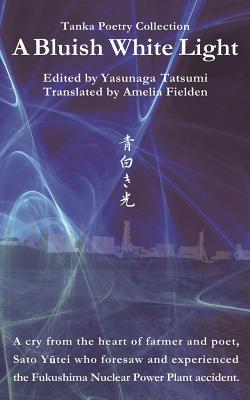 A Bluish White Light (Paperback)
Tanka Poetry Collection
Createspace Independent Publishing Platform, 9781492290100, 200pp.
Publication Date: June 17, 2013
* Individual store prices may vary.
Description
This tanka poetry collection is a cry from the heart of farmer and poet, Sato Yutei who foresaw and experienced the Fukushima Nuclear Power Plant accident which occurred in March 2011. The three tanka poems below are picked up among the 132 poems selected for this book. when will it explode?
there's a bluish white light
hidden, deep
within the six nuclear reactors
lined up in a chalky row where the nuclear power plant
came to bring prosperity
in our town
many hearts
have been impoverished another worker
at the nuclear power plant
has died -
this time, too, his illness
was not clearly named Since the accident at the Fukushima Nuclear Power Plant, the vast majority of Japanese people have reversed their former views on nuclear energy: now they say it should be done away with, completely.
A previously unimaginable situation has arisen: there is to be a temporary shutdown of production from all of Japan's fifty four nuclear facilities.
In such a situation, many Japanese who took in the hand the pocket edition of 'A Bluish White Light', the work of the poet, Sato Yutei, and cast eyes over it, must have felt a powerful shock-wave running through the heart. Subsequently, as we undertook a close reading of these tanka poems, our mind became more and more steeped in the 'cry from the heart' appeal of this poet who had both foreseen the nuclear accident and then experienced its impact on his own life.
This'cry' has been transformed into the conviction that all of humankind must take joint ownership of the whole universe. It is for that very reason I sought to have these tanka translated into English so they could reach people throughout the world. The great difficulty of conveying, through English translation of the tanka, the profundity of such a 'cry from the heart', was a real stumbling block, I felt. However, this idea became a reality when I was fortunately introduced, through unexpected channels, to an Australian translator, Amelia Fielden who has gained a high reputation, world-wide, for her excellent work on translating contemporary Japanese tanka into English.
I shall summarise below the Afterword of 'A Bluish White Light', written by Mr Sato, who composed these tanka. "Until March 11th 2011, when the great eastern Japan earthquake disaster occurred, I had been living in Okuma town which abuts the six nuclear reactors of that notorious Fukushima Number One Nuclear Power Plant. In neighbouring Tomioka town stood the four nuclear reactors belonging to the Number Two Nuclear Power Plant. Together these two plants had been producing over nine megawatts of electricity. All of this power had been transmitted to the Tokyo metropolitan area. Even before the major earthquake occurred, there were big arguments, and deep regrets expressed over the introduction of nuclear power facilities to our land. Utter ignorance was one of the reasons, another that the region was particularly backward - for the situation where people, seduced by promises of economic efficacy, originally welcomed the power plants with open arms.
Then the thing that was bound to happen eventually, happened. Even the generations which come after us are unlikely to forget this date: 11th March 2011. The name Fukushima has reverberated in every corner of the world.
Ultimately my home town was designated as a 'Difficult to Return Area'. We have ended up having no home, or land, or graves to which we could return. In other words, there was no light at hand with which we could make our way through an expanding world of darkness. You can imagine how the suffering of the disaster victims is reaching its extreme.