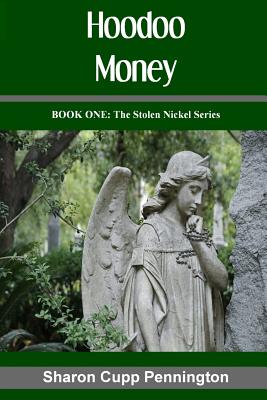 Hoodoo Money (Paperback)
Createspace, 9781492330004, 328pp.
Publication Date: May 15, 2008
Description
After her almost-wedding to a bigamist, successful children's author Braeden McKay has given up on love. She's content to live vicariously through her imaginary heroine, Platypus Pearl, and a gaggle of adventurous, web-footed cohorts - until a working vacation in New Orleans shakes up her quiet, structured world. Had she known that souvenir nickel stolen from the grave of a hoodoo woman would catapult her into a nightmare of betrayal and murder, she would have insisted her friend put it back. Cursed nickel or unfortunate happenstance? Sanderson Montgomery isn't one to discount the supernatural beliefs of others. This is the Big Easy, after all, Mecca to the spiritual and the superstitious. As a veteran detective, neither does he ignore cold, hard fact. And the fact is, someone or something is bent on harming Braeden McKay, and it's up to him to protect her while keeping his heart out of the mix. Can love, the very thing Braeden wants no part of, be the one force greater than any adversary - even a hoodoo curse?
About the Author
Sharon Cupp Pennington's short stories have appeared in numerous online and print venues, with anthology contributions to The Rocking Chair Reader in the Coming Home edition (2004) and Family Gatherings (2005), A Cup of Comfort for Weddings: Something Old, Something New (2007), and Good Old Days Magazine (March, 2007). Her debut novel, Hoodoo Money, was released by Draumr Publishign LLC in May 2008 and the sequel, Mangroves and Monsters, followed in November 2009. Since Ms. Pennington is no longer affiliated with Draumr Publishing, both novels are now being re-released as second editions. She resides in Texas with her husband, Wayne, where she is currently working on her next novel.
Advertisement