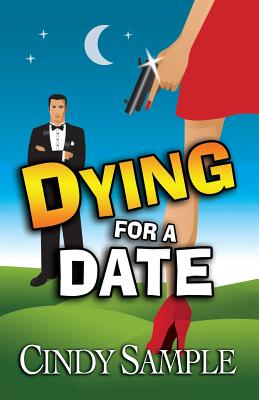 Dying for a Date
Paperback

* Individual store prices may vary.
Description
Dying for a Date by Cindy Sample, five-time LEFTY Award Finalist for Best Humorous Mystery Unsure if she is looking for Mr. Right, or Mr. Every Other Saturday Night, divorced mother of two, Laurel McKay reluctantly joins THE LOVE CLUB, a popular local dating service. Dressed to kill, she meets bachelor number one at a trendy restaurant. But the date is a bust, literally, when the guy decides Laurel is dessert, and she breaks his nose with her cell phone. It gets even worse when the man is found murdered the next morning, and Laurel has his blood on her clothes. Despite her now being a person of interest to the police, Laurel bravely ventures out on date number two. When that unlucky bachelor disappears during dinner, Laurel's only alibi is a bottle of Dom Perignon. The sexy investigating detective thinks she's innocent and is worried she may be the next target. That's more than enough motivation for Laurel to find a murderer determined to kill her social life--before dating becomes a dead end she can't escape. "Cindy Sample knows how to weave a story that satisfies and excites. Time literally flew by as I turned the pages...simultaneously harrowing, exciting, tender, and uplifting, a true who-done-it combined with a romance that will warm the heart and sheets."-Long and Short Reviews "Dying for a Date is such a wonderful fun read I couldn't put it down. Cindy Sample has created a cast of unforgettable and entertaining characters. Great humor, sexual tension, and an intriguing plot, all the components for a delightful romantic mystery."-Penny Warner, award-winning author of the Nancy Drew Handbook, Presley Parker party planning series and the Connor Westphal mysteries "Dying for a Date is one of those books, the type you stay up late - way too late - to finish. Combining murder mystery and humor is a difficult task and "Cindy Sample does it brilliantly."-Jenny Hilborne, author of the Mac Jackson Mystery Thriller series "With tongue-in-cheek and a tush in tight skirts, Laurel McKay traverses the demands of motherhood and the perils of on-line dating in Cindy Sample's chic mystery, Dying for a Date. Re-entering the singles scene after divorce isn't easy as Laurel discovers when her "blind date" tries to practice Braille on her body. Her first bad date becomes his last when he's found dead the next day. Curl up with a pint of ice cream, fluffy slippers and a book that will make you glad you're having a night in." -Sunny Frazier, Author of the Christy Bristol Astrology Mysteries "Dying for a Date combines the fun of a spunky and smart heroine with an exciting murder mystery. This is an excellent entry to the world of romantic mysteries."-San Francisco Book Review.
Createspace Independent Publishing Platform, 9781492367246, 252pp.
Publication Date: September 25, 2013
About the Author
Cindy Sample is a former mortgage banking CEO of a nationwide company who decided plotting murder was more entertaining that plodding through paperwork. She retired to follow her lifelong dream of being a mystery author. Her experiences with on-line dating sites fueled the concept for DYING FOR A DATE, a humorous romantic mystery set in the California gold country. DYING FOR A DANCE, a 2012 LEFTY AWARD finalist for best humorous mystery and winner of the 2011 Northern California Publishers & Authors award for fiction, is based on her experiences in the glamorous world of competitive ballroom dancing. Who knew dancing could be so deadly? DYING FOR A DAIQUIRI moves the action to the Big Island of Hawaii. Never has research been so much fun! DYING FOR A DAIQUIRI was a finalist for the 2014 Silver Falchion Award for Best Traditional Mystery. Laurel returns to Placerville for her wildest ride yet in Dying for a Dude. The West will never be the same. Dying for a Dude was also a 2014 Next Generation Indie Award Finalist in both mystery and humor. Then on to Dying for a Donut, the tastiest mystery of them all. Cindy is a four-time finalist for the LEFTY Award for best humorous mystery and a past president of the Sacramento chapter of Sisters in Crime. She has served on the boards of the Sacramento Opera and YWCA. She is a member of Mystery Writers of America and Romance Writers of America. Cindy has two wonderful adult children who live too far away. She loves chatting with readers so feel free to contact her on any forum. Sign up for her newsletter to find out about upcoming events and contests. http: //cindysamplebooks.com/contact/ Connect with Cindy on Facebook and Twitter http: //facebook.com/cindysampleauthor http: //twitter.com/cindysample1 Email Cindy at cindy@cindysamplebooks.com