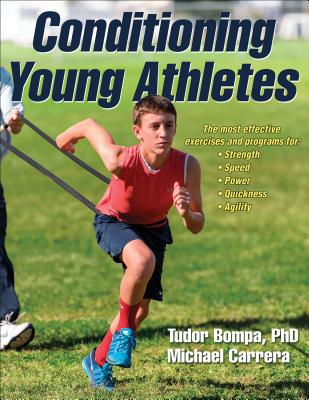 Conditioning Young Athletes
Paperback

* Individual store prices may vary.
Description
Conditioning for Young Athletes provides coaches, instructors, teachers, and parents of future sport stars the best training advice, exercises, and programs for establishing an overall fitness base and maximizing athletic development for youth.
This authoritative guide includes numerous exercises that safely increase young athletes' coordination, flexibility, speed, strength, and endurance. It contains a proven regimen geared to three developmental phases, long- and short-term training plans, and specific programs for sports such as baseball, basketball, football, ice hockey, soccer, swimming, and track and field.
Tudor Bompa brings you the expertise that has helped train everyone from youth athletes to Olympic champions. Together with Michael Carrera, he provides parents, teachers, and coaches with more than 182 exercises appropriate for children ages 6 to 18. These exercises take into consideration critical factors such as a child's developmental stage, motor functioning, and sex-specific considerations to ensure that the workouts do not hinder development and growth. Regardless of the sport, Conditioning Young Athletes has you covered with ready-to-use programs for both short-term and long-term development.
Human Kinetics, 9781492503095, 304pp.
Publication Date: June 18, 2015
About the Author
Tudor O. Bompa, PhD, revolutionized Western training methods when he introduced his groundbreaking theory of periodization in Romania in 1963. After adopting his training system, the Eastern Bloc countries dominated international sports through the 1970s and 1980s. In 1988, Dr. Bompa applied his principle of periodization to the sport of bodybuilding. He has personally trained 11 Olympic medalists (including four gold medalists) and has served as a consultant to coaches and athletes worldwide.
Dr. Bompa's books on training methods, including Theory and Methodology of Training: The Key to Athletic Performance and Periodization of Training for Sports, have been translated into 17 languages and used in more than 130 countries for training athletes and educating and certifying coaches. Bompa has been invited to speak about training in more than 30 countries and has been awarded certificates of honor and appreciation from such prestigious organizations as the Argentinean Ministry of Culture, the Australian Sports Council, the Spanish Olympic Committee, the International Olympic Committee, and the National Strength and Conditioning Association.
A member of the Canadian Olympic Association and the Romanian National Council of Sports, Dr. Bompa is professor emeritus at York University, where he has taught training theories since 1987. He and his wife, Tamara, live in Sharon, Ontario.
Michael Carrera is a certified exercise physiologist and personal trainer with vast experience as a health, fitness, and weight-loss expert. He holds a master's degree in exercise science and has trained elite athletes, including national-level swimmers and professional hockey players. His education and experience have qualified him to create and administer strength test protocols for athletes in ice hockey, soccer, figure skating, lacrosse, and swimming at the provincial and national levels.
Carrera has contributed to numerous scientific journals, articles, chapters, and manuals in the areas of fitness, health, and sport conditioning. He has published two books and produced DVDs integrating spirituality with weight training and fitness. He coauthored the second edition of Periodization Training for Sports (Human Kinetics, 2005).
Carrera is widely recognized in the media, having appeared as an expert on numerous radio and television programs, including morning shows, specialty channels, and radio. He has been a contributor in national publications such as Men's Health, Canadian Living, Alive, and the National Post.
Carrera created and implemented corporate wellness programs and health management strategies for top Canadian companies. He has also created more than 14,000 exercise programs for health and fitness websites such as TrueStar Kids and has overseen fitness and weight-loss centers catering to women across Canada.