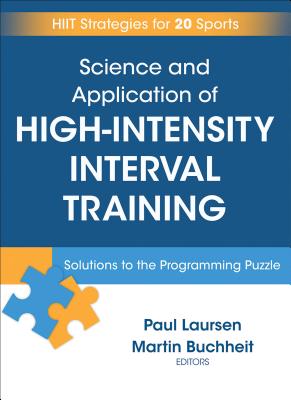 Science and Application of High Intensity Interval Training
Solutions to the Programming Puzzle
Hardcover

* Individual store prices may vary.
Description
The popularity of high-intensity interval training (HIIT), which consists primarily of repeated bursts of high-intensity exercise, continues to soar because its effectiveness and efficiency have been proven in use by both elite athletes and general fitness enthusiasts. Surprisingly, few resources have attempted to explain both the science behind the HIIT movement and its sport-specific application to athlete training. That's why Science and Application of High-Intensity Interval Training is a must-have resource for sport coaches, strength and conditioning professionals, personal trainers, and exercise physiologists, as well as for researchers and sport scientists who study high-intensity interval training.
Authors Paul Laursen and Martin Buchheit—both well-known, expert-level HIIT researchers as well as practitioners and endurance athletes—do a masterful job of blending science-based concepts of HIIT with practical application strategies. Laursen, Buchheit, and a team of highly qualified contributors—who bring hundreds of years of combined HIIT science and application experience from across all sports—have written Science and Application of High-Intensity Interval Training to provide practitioners and athletes an understanding of the foundational principles of HIIT programming. Chapters in the first section describe five types of training, how to manipulate HIIT variables to maximize improvements in physical performance, and how to incorporate HIIT into a general training program. Readers will also learn the influence HIIT can have on fatigue, stress, and an athlete's overall health.
The final 20 chapters each focus on a different sport and are written by leading coaches or practitioners who have successfully applied HIIT principles at an elite level in their respective sport. These chapters describe specific ways to incorporate HIIT into a training regimen for everything from combat sports to endurance events to the most popular U.S. and international individual and team sports. Each chapter also contains sport-specific preparation and competition phases, an overall one-year training program, and a brief story of how the coach or practitioner who authored the chapter used HIIT to successfully prepare an athlete for a competition.
Knowing the proper ways to incorporate high-intensity interval training into a fitness or conditioning program is of vital importance: Not following proper protocols can lead to excessive and prolonged fatigue, illness, or injury. Science and Application of High-Intensity Interval Training is an essential guide for those who want to incorporate HIIT into their own training or their athletes' programming.
Earn continuing education credits/units! A continuing education course and exam that uses this book is also available. It may be purchased separately or as part of a package that includes all the course materials and exam.
Praise For Science and Application of High Intensity Interval Training: Solutions to the Programming Puzzle…
"The mix of science and practical experience in Science and Application of High-Intensity Interval Training makes it the definitive guide to getting the most out of your interval training."
Alex Hutchinson—Author of Endure: Mind, Body, and the Curiously Elastic Limits of Human Performance
"Science and Application of High-Intensity Interval Training, written by world-class scientists and practitioners, is an authoritative guide to both the evidence and the delivery of conditioning programs. It will become one of the most dog-eared books on my shelf."
David Joyce—Head of Athletic Performance for the GWS Giants Football Club and Editor of High-Performance Training for Sports
"With Science and Application of High-Intensity Interval Training, Paul Laursen and Martin Buchheit provide the definitive training guide for athletes and coaches of all levels."
Steve Magness—Head Coach for the University of Houston Cross Country Team and Author of The Science of Running
Human Kinetics, 9781492552123, 672pp.
Publication Date: December 28, 2018
About the Author
Paul B. Laursen, PhD, is an endurance coach, a sport scientist, and an adjunct professor for Auckland University of Technology in New Zealand. He earned his doctorate in exercise physiology from the University of Queensland, was formerly the physiology manager for High Performance Sport New Zealand, and now resides in British Columbia, Canada.
Laursen is well known throughout the international sport and strength and conditioning communities for his knowledge and research of high-intensity interval training. His other interests include health, longevity, heart rate variability, thermoregulation, and artificial intelligence application to training. He has published more than 125 peer-reviewed manuscripts in exercise and sport science journals; his publications with coauthor Martin Buchheit are among the most cited. He is an active endurance athlete, having completed 18 Ironman triathlons.
Martin Buchheit, PhD, is a sport scientist, a strength and conditioning coach, and the head of performance for the Paris Saint-Germain Football (Soccer) Club. He is also an adjunct associate professor of exercise science for Victoria University in Australia. He previously worked as an exercise physiologist for ASPIRE Academy in Qatar, and he has served as a lecturer, consultant, and strength and conditioning coach for various organizations.
Buchheit received his doctorate in physiology from the University of Strasbourg in France. He has published more than 160 peer-reviewed manuscripts, with much of his research focusing on high-intensity interval training. The training tools he has developed include the 30-15 intermittent fitness test, used to program high-intensity training, and the 5-5 running test, used to monitor training status using heart rate variability. Buchheit also has experience with match analysis and talent development and identification. He is an endurance athlete who has a personal best time of 2:54 in the marathon.