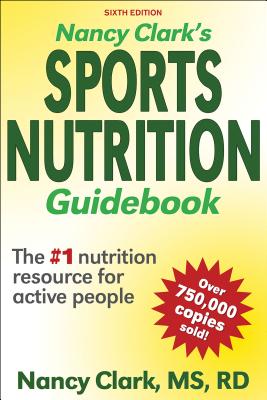 Nancy Clark's Sports Nutrition Guidebook
Paperback

* Individual store prices may vary.
Description
Boost energy, lose fat, build muscle, and improve your performance with the best-selling nutrition guide for active people!

In Nancy Clark's Sports Nutrition Guidebook, you'll get real-world advice from an internationally respected and trusted sports nutritionist. You'll find the latest research and information on what to eat before, during, and after exercise; sport drinks and energy foods; popular trends like keto and gluten-free diets; when and how much carbohydrate to eat; meal patterns that fit your training schedule; sustainability; and digestive issues. You'll learn practical tips regarding vegan, diabetic, gluten-free, low-FODMAP, and bariatric diets. You'll also find help for athletes with anorexia and binge-eating disorders. You'll learn how to resolve confusion about what to on a daily basis so you can make healthy and informed dietary decisions for yourself and your busy family.

Clark's practical suggestions for eating on the go will help you make good choices in any restaurant, café, drive-through, or convenience store. Learn what to eat before and during exercise and events, how to refuel for optimal recovery, and what athletes need to know about relative energy deficiency in sport (RED-S). With 89 family-friendly recipes, you'll find plenty of meals to fuel performance that you can make right in your own kitchen.

Whether you're preparing for competition or simply fueling your active lifestyle, Nancy Clark's Sports Nutrition Guidebook will show you how to get maximum benefit from the foods you choose and the meals you make. Why settle for your current athletic level when a good fueling program can help you perform even better?
Human Kinetics, 9781492591573, 536pp.
Publication Date: July 16, 2019
About the Author
Nancy Clark, MS, RD, CSSD, is an internationally respected and trusted sports nutritionist specializing in nutrition for performance, wellness, and weight management, including helping athletes with eating disorders. At her private practice in the Boston area (Newton, Massachusetts), she counsels active people of all ages and athletic abilities—from high school athletes to Olympians—by giving one-on-one, personalized advice.

In the 40 years in which she has specialized in sports dietetics, Clark has helped thousands of casual and competitive athletes. Her more renowned clients have included members of the Boston Red Sox, Bruins, and Celtics, as well as athletes from many colleges in the area, including Boston College, Tufts University, and Brandeis University.

Clark enjoys speaking to teams, clubs, and health professionals, as well as writing as a way to teach people how to eat to win. Her best-selling book, Nancy Clark's Sports Nutrition Guidebook, has sold over 750,000 copies and is now in its sixth edition. Her other books include food guides for soccer players, new runners, marathoners, and cyclists. She also writes a monthly nutrition column called "The Athlete's Kitchen," which appears regularly in over 100 sports publications and websites. Her nutrition advice and photo have even graced the back of the Wheaties box!

Clark received her undergraduate degree in nutrition from Simmons University in Boston and was honored with the Simmons Distinguished Alumna Award in 2007. Her dietetic internship was at Massachusetts General Hospital. She received her graduate degree in nutrition, with a focus on exercise physiology, from Boston University. She is a fellow of both the Academy of Nutrition and Dietetics and the American College of Sports Medicine (ACSM), and she has been a member of ACSM's board of trustees. In 2015, she received the Nutrition Science Media Award from the American Society for Nutrition.