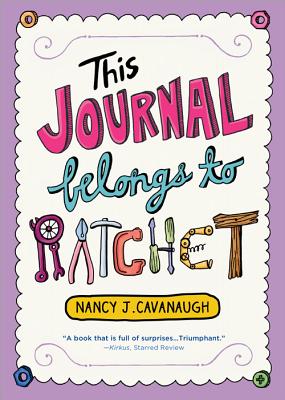 This Journal Belongs to Ratchet (Paperback)
Sourcebooks Jabberwocky, 9781492601098, 307pp.
Publication Date: May 6, 2014
Other Editions of This Title:
Hardcover (4/2/2013)
* Individual store prices may vary.
Description
Age Level: 9 and up - Grade Level: 3 to 6
A Notable Children's Books in the Language Arts (American Library Association)
A Florida Sunshine State Young Reader's Award short list title
If only getting a new life were as easy as getting a new notebook.
But it's not.
It's the first day of school for all the kids in the neighborhood. But not for me. I'm homeschooled. That means nothing new. No new book bag, no new clothes, and no friends -- old or new. The best I've got is this notebook. I'm supposed to use it for my writing assignments, but my dad never checks. Here's what I'm really going to use it for:
Ratchet's Top Secret Plan
Project Goal: turn my old, recycled, freakish, friendless, motherless life into something shiny and new.
Praise for This Journal Belongs to Ratchet:
"I cannot imagine a middle grade classroom or library where this book wouldn't be popular."--Colby Sharp, teacher and co-founder of Nerdy Book Club
"One of the freshest new voices I've heard in a while...this debut novel is a winner."--Augusta Scattergood, Author of Glory Be, an Amazon Best Middle Grade Novel of 2012
"A book that is full of surprises . . . Triumphant enough to make readers cheer; touching enough to make them cry."--Kirkus, STARRED Review
Great for parents, librarians and educators looking for:
An illustrated format for middle grade readers, especailly for reluctant readers and those who love graphic novelsA narrative featuring environmentalism and a positive view on activism for kidsA story featuring a strong female characterA heartwarming story that combines coming of age and accepting one's identity
A Children's Core Collections winner
A Florida Book Awards Gold Medalist
A Black-Eyed Susan Book Award nominee
A South Carolina Book Awards nominee
A Maine Student Book Award title
A Green Prize for Sustainable Literature winner
Rebecca Caudill Young Readers' Book Award nominee