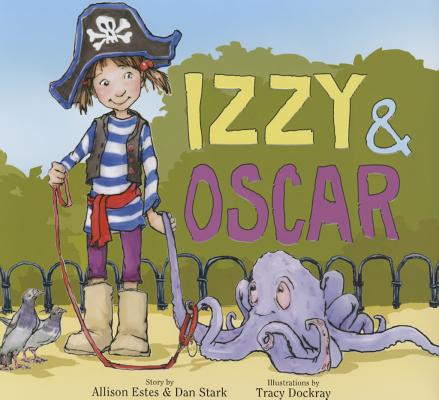 Izzy & Oscar
Hardcover

* Individual store prices may vary.
Description
Hilarious yet sweet, this charming picture book that will give readers the giggles while subtly conveying the message to love others for who they are. Pretend pirate captain Izzy is looking for a pet when an adventurous little octopus squiggles into town.
Have you ever taught an octopus to roll over? It's harder than it looks. Discover why octopuses make the best pets in this charming picture book about friendship and embracing individuality!
Izzy has always wanted a pet. So when an adventurous octopus squiggles into town, Izzy decides to keep him. After all, a real pirate captain has to have a mascot. Oscar is not very good at going for walks or playing fetch. (Although he is amazing at hide and seek). And he's definitely not like other pets…
But he is just right for Izzy.
Readers will be tickled by Izzy's attempts to teach Oscar to behave like a dog, a parrot, a pony—and gratified by Izzy's realization that in the end we love others for who they are…eight arms and all!
Praise For Izzy & Oscar…
"Dockray's lively illustrations portray the action and add to the humor of this cheery, unusual pet story...a grand addition to any pet-themed read-aloud session. " — Kirkus Reviews

"It's a goofy, good-natured story of a decidedly nontraditional pet." — Publishers Weekly

"It's a really cute story about seeing strengths in others and not being upset when people (or pets) don't conform to the standards we think they should. Izzy and Oscar is a lighthearted, funny, and sweet book that kids will love. " — Batch of Books

"The illustrations by Tracy Dockray are sweet and colorful. In addition to a fun story that teaches that we love others for who they are not who we want them to be, you will also find 12 Octofacts at the end of the story. " — Mom's Lifesavers

"My girls both loved this book. My older one had fun spouting off the facts that she learned at the end, and both of them found the book humorous and cute." — Motherhood Moment

"This book is flat out adorable! From it's bright and happy illustrations, down to the fun pirate-themed story both myself and my Littlest Little loved reading it...This will make a perfect gift for young boys and girls who love to read, or love to be read to!" — Me, My Shelf and I

"Izzy and Oscar is beautifully illustrated and shows how we can all be truly unique and yet loved for who we are. " — Central Minnesota Mom

"Izzy & Oscar by Allison Estes and Dan Stark is a fabulous, imaginative little story that will quickly capture the hearts of you and your children... The fun, imagination-filled story and the bright, heart-warming illustrations make this a book that kids will love to read over and over again." — Glimpse

"This exciting story is full of rich vocabulary, beautiful pencil and dye illustrations, and belly-laugh humor that young children will love. " — School Library Journal

"In this amusing book we see how friendships can sometimes be a little rocky at the beginning, especially if your friend happens to be an octopus. Children will be amused to see how Izzy and Oscar resolve their problem in a rather unconventional way. " — Through the Looking Glass Reviews

"It's a ridiculous tale of friendship, pets and great adventure — perfect for the last days of summer." — The Greenville News
Sourcebooks Jabberwocky, 9781492601500, 40pp.
Publication Date: April 7, 2015
or
Not Currently Available for Direct Purchase