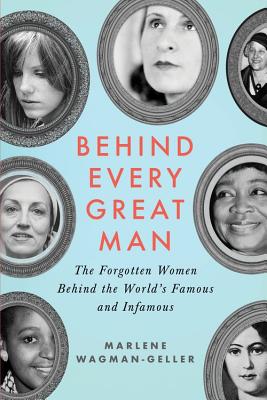 Behind Every Great Man
The Forgotten Women Behind the World's Famous and Infamous
Paperback

* Individual store prices may vary.
Description
Who Said Men Get to Monopolize the Glory?
Discover the Little Known Women Who Have Put the World's Alpha Males on the Map.
From ancient times to the present, men have gotten most of the good ink. Yet standing just outside the spotlight are the extraordinary, and overlooked, wives and companions who are just as instrumental in shaping the destinies of their famous—and infamous—men.
This witty, illuminating book reveals the remarkable stories of forty captivating females, from Constance Lloyd (Mrs. Oscar Wilde) to Carolyn Adams (Mrs. Jerry Garcia), who have stood behind their legendary partners and helped to humanize them, often at the cost of their own careers, reputations, and happiness. Through fame and its attendant ills—alcoholism, infidelity, mental illness, divorce, and even attempted murder—these powerful women quietly propelled their men to the top and changed the course of history.
Meet the Untold Half of History, Including:
Alma Reville (Mrs. Alfred Hitchcock)
Elena Diakonova (Mrs. Salvador Dali)
Winifred Madikizela (Mrs. Nelson Mandela)
Ann Charteris (Mrs. Ian Fleming, a.k.a. Mrs. James Bond)
Ruth Alpern (Mrs. Bernie Maddoff)
And 35 more!
Praise For Behind Every Great Man: The Forgotten Women Behind the World's Famous and Infamous…
"The book's easily digestible format of short chapters noting the highs and lows of these women's lives is attention-grabbing and enlightening, proving that although we might not know their stories, we should." — Tribune News Service

"The collection spans time and geography and encompasses politics, the arts, and finance to offer a fascinating look at the sisterhood of the women behind famous men." — Booklist

"Behind Every Great Man takes the blindfold off the eyes of the reader by force and informs them that not every "Great Man" was a great person to their wives" — Fangirl Nation

"The chapters in the book were addicting. Each time I came to a new chapter I thought "well I want to learn about her. I'll just read one more." I thoroughly enjoyed getting a look at the women behind (or propping up) the famous men!" — I Wish I Lived in a Library

"Marlene Wagman-Geller does more than profile 40 members of the "fairer sex" who lived and died in relative obscurity. She allows these vibrant women, marginalized by history, to step into their own spotlight by providing more than simple biographical data. Her clever and witty writing style brings them to life." — Daily Press

"Wagman-Geller doesn't gloss over their flaws, peccadilloes, and even crimes, but infuses their stories with a dash of humor that will have you laughing out loud. Entertaining and informative, Behind Every Great Man is a must read for every fan of her-story." — History and Other Thoughts

"Behind Every Great Man is a noble attempt to redress the balance and show they are more than just footnotes in history, but part of history itself." — The Roanoke Times
Sourcebooks, 9781492603054, 368pp.
Publication Date: March 3, 2015
or
Not Currently Available for Direct Purchase